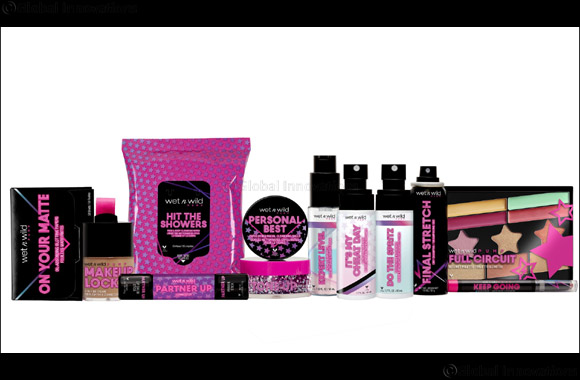 Dubai, United Arab Emirates, February 02, 2020: Wet n Wild, one of the most coveted and well-known cruelty-free make-up brands has launched three brand new collections in the UAE beauty market! One of the three will be a permanent fixture in stores, while the other two are only available while stocks last.
With a varied selection of products for every skin and face type, Wet n Wild products are so wonderfully pigmented, safe and extremely affordable – opening up a world of unlimited beauty creations to anyone who wants to venture in.
New Year, New Shades

Wet n Wild has launched a whole new wave of collections in the lips, eyes and brow departments. Say hello to some of the fan favorite lipsticks, as well as brand new shades, in beautifully sleek packaging. The MegaLast™ High Shine Lipsticks (AED 24 each) come in 11 shades for those who love a good sheen, and the MegaLast™ Matte Lipsticks (AED 24 each) come in 13 shades for the satin-finish lipstick lovers.
Keep an eye out for the four new ColorIcon™ Eyeshadow Palettes (AED 38), that are designed to awaken the inner artist in you. You can try your hand at any of these gorgeous shades - The Glamour Squad, V.I.Purple, Cosmic Collision, Stop Playing Safe.
Welcome the new Ultimate Brow Pomade (AED 29) into your make-up collection! Formulated to be long-lasting and smooth, you can't have a bad brow day with this gem.
Wet n Wild PUMP Collection (Limited Edition)
Wet n Wild Pump Collection is the collection that promises lasting power for a glam day at the gym. Offering portable sizes, as well as waterproof and sweatproof formulas, you can rely on this collection to PUMP you up! Full Circuit Palette (AED 51.45) is a comprehensive eye and face palette in this collection – chic and quick! Keep your eye on the prize with the Keep Going Eyeshadow Sticks (AED 36.75 each). Conceal imperfections and delicately highlight your face with the Makeup Locker 3-in-1 BB Cream (AED 51.45). Eliminate sweat and oils on your face with the On Your Matte Blotting Papers (AED 30.45). Enjoy flawless skin before and after a workout with the Personal Best Exfoliating Cleansing Balls (AED 40.95).
Wet n Wild MegaJelly™ Collection (Limited Edition)

Enhance your natural beauty with this shining new collection. Create the perfect base for your make-up and ensure longevity with the MegaJelly™ Canvas Clear Primer (AED 51.45). Achieve that glowing aura with the MegaJelly™ Highlighter (AED 51.45), which is highly buildable and can be used under or over foundation. Shimmer and shine with the MegaJelly™ Eyeshadow Pots (AED 36.75), available in four shades: Code Red, Dirty Martini, Just Rust Me, and Champagne Diet.
The Wet n Wild PUMP™ and Wet n Wild MegaJelly™ Limited Edition Collections are now available in stores in the UAE, while stocks last.