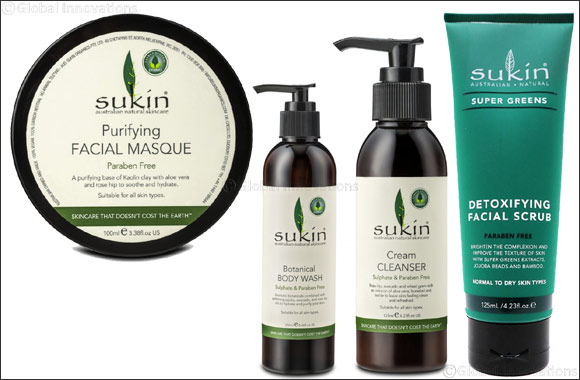 Dubai, United Arab Emirates, February 02, 2020: This Valentine's Day, prepare for date night and consciously couple your skincare products to maximize the effects with these combinations from Sukin skincare. As with all successful couples, these skincare duos bring out the best in each other, helping you to achieve a glowing complexion, worthy of date night!
Use Sukin Cream Cleanser (AED 42) for squeaky clean skin to remove the surface layer of dirt and oil residue and make-up, then follow with a natural Detoxifying Scrub (AED 54) to exfoliate and polish away any dead, dull skin to reveal a smooth and radiant complexion.
For an ultimate deep cleanse, indulge yourself in a pampering and Purifying Mask (AED 65) session that aids in unclogging congested pores. Follow with Sukin's fast absorbing Facial Moisturiser (AED 42) that will replenish and nourish for the smoothest touch!
Don't forget to lather up with Sukin's indulgent Botanical Body Wash (AED 49) in the shower and soften skin with the comforting Hydrating Body Lotion (AED 79).
Sukin is available exclusively at LIFE Pharmacy retail outlets throughout the UAE, in Holland & Barrett,
Saudi Arabia and Boutiqaat in Kuwait. Sukin is also available in Lebanon at key pharmacies including Summerland Pharmacy, Arax Pharmacy and Express Pharmacy.
All products made by Sukin are Australian made, with ingredients that are naturally derived, cruelty-free and 100% vegan. All products adhere to Sukin's strict NO List.
NATURALLY CREATED WITH:
NO SYNTHETIC FRAGRANCES NO MINERAL OILS NO SULPHATES
NO ANIMAL DERIVAATIVES NO PETROLATUM NO PARABENS
NO ARTIFICAL COLOUR NO MEA/DEA/TEA NO SILICONES
NO HARSH DETERGENTS NO PHTAHALATES NO EDTA