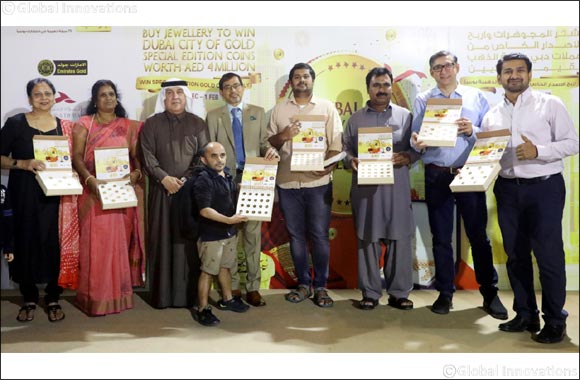 7 more days of exciting promotion and chances to win Dubai City of Gold' special edition coins

Dubai, United Arab Emirates, January 26, 2020: Hundreds of jewellery shoppers in Dubai were pleasantly surprised by Dubai Gold & Jewellery Group (DGJG), when their regular shopping visits won them prizes. The 25th anniversary year for Dubai Shopping Festival has become memorable for a lot of shoppers this year.

Here are few stories of the last few week winners that may inspire other shoppers to shop for jewellery, this season.

A crane operator in Abu Dhabi

The raffle coupon of a Pakistani national, Mr. Parvez was picked at the daily draw held on the 09th January 2019. Mr. Parvez had made a purchase of mere AED 500 before travelling to Pakistan for his annual vacation.

Mr. Parvez said "When I received the call from the DGJG team, I was in Pakistan with my family. I thought it was a prank call. I got assured about the win only after coming back from the holidays. I am still shocked and thrilled to win so many coins. It's a life changing moment. I could have bought the gold Abu Dhabi also, but nothing beats the Dubai gold souk when it comes the variety and choices."

Daughter's luck

Another lucky winner from one the draws held last week is a Bangladeshi national, baby Nafisha, a 6-year-old girl who became lucky for his father.
She won 25 city of gold coins from DGJG. The ecstatic father said "I am really excited and can't explain how lucky I am feeling right now. I have been participating in different competition but never won anything. Allah has been very kind to me and I would like to keep the gold coins for Nafisha's future. I never knew by spending only 3400, I will be able to win so big"

The UAE national winner

Mr. Ali Hassan is a government employee for over 10 years. He wanted to surprise his wife with a gold necklace and was surprised in return by winning 25 gold coins.

Mr. Hassan said "Really happy to win the exclusive Dubai city of gold coins. Do good and the good returns to you (laughed). I have not yet planned what I am going to do with the coins but I am sure my wife already has some ideas to make more jewellery for herself. More than the winning, it's about the memory. I will cherish this win for a long time."

How to participate and win big

With every Jewellery purchase of AED 500 from any of the participating Jewellery outlets, customers will be entitled to get one raffle coupon that can win them up to 3000 Gold Coins of 8 grams each in raffle draws. There will be 5 winners in daily raffle draws until 1st of February 2020; the first winner will win 25 coins, second to win 20, third to win 15, fourth to win 10 and fifth winner will take home 5 coins. Also, shoppers can win more every Saturday, where three additional winners can win 5 coins each.

Customers can double their winning chances with the purchase of diamond and pearl jewellery worth AED 500 or on the purchase of 'Dubai City of Gold' special edition coin or when using Visa card for purchase, where shoppers will be entitled for double raffle