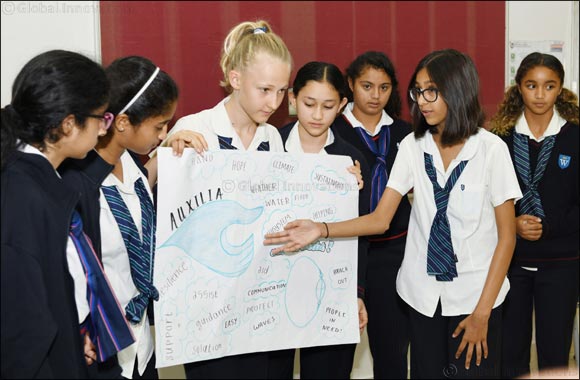 More than 40 corporate mentors, trainers and volunteers in attendance at one of the largest events of its kind in the region
Dubai, United Arab Emirates, December 12, 2019: GEMS Education has held a special entrepreneurship bootcamp involving 500 of its students from 20 schools and more than 40 corporate mentors, trainers and volunteers. The ambitious full-day event, titled 'Big Bang Bootcamp', was held on 10 December 2019 at GEMS Modern Academy in Dubai in conjunction with INJAZ UAE and Standard Chartered Bank.
The bootcamp is a precursor to the GEMS Global Innovation Challenge, one of the world's largest youth innovation and entrepreneurship programmes, and was designed to inform students about entrepreneurship and support them in their development journey as they transform ideas into actions.
The special bootcamp was targeted at students in Grades 7-11 / Years 8-10 and involved a series of presentations and workshops on subjects such as problem-solving and research, self-motivation and personal skills, ideation and developing business solutions, finance and marketing. Students were also set a business challenge and asked to develop solutions, with three winning teams announced at the end of the day, with each receiving job shadowing opportunities with Standard Chartered Bank.
Karan Deep, Head of Innovation and Partnerships at GEMS Education, said: "We have a plethora of passion and talent within our student community. We also realise that it can sometimes be difficult to know where to start. The Big Bang Bootcamp addresses this by delivering knowledge and activities by corporate experts on the foundations of team work, ideation and business planning. With INJAZ UAE, we are assured we can provide best-in-class learning opportunities for GEMS Education students."
Razan Bashiti, CEO of INJAZ UAE, commented: "We are proud of our strategic partnership with GEMS Education and anticipate great impact while we expand our efforts into more schools. The Big Bang Bootcamp is a great space for students' innovation within an amplified entrepreneurial spirit that drives their talents to limitless opportunities. We are confident that this partnership with GEMS Education will support INJAZ UAE's efforts to reach out to and empower more youth in the UAE."
Following the event, students will take their learning and build solutions for global social challenges with large-scale positive impact as part of the Global Innovation Challenge. GEMS Education will provide eight months of mentorship, seed funding and workshops, as well as an opportunity to present their solution at the annual Singularity University Global Summit in the United States.