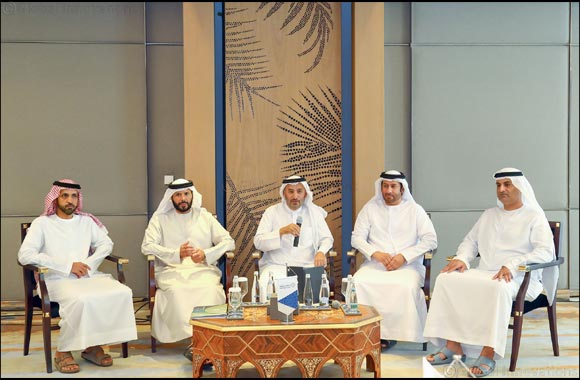 231,277 real estate units, 1,240 properties, and 89 real estate companies registered in the system, with teams on standby
The total amount of service fees audited in the system exceeded AED 1.3 billion, and may soon reach AED 4 billion
Dubai, UAE - November 19, 2019: Dubai Land Department (DLD) held a press conference highlighting the 'Joint Real Estate Ownership Law in Dubai.' Participants reviewed the Mollak system updates for the purpose of governance, regulation, and control of the jointly owned real estate management sector as well as for providing intelligent services to customers in the sector, in line with the directives of HH Sheikh Mohammed bin Rashid Al Maktoum, Vice President and Prime Minister of the UAE and Ruler of Dubai, to transform Dubai Government into a smart government.

His Highness issued by the end of September Law No. (6) of 2019 on the joint real estate ownership in Dubai, its provisions of which apply to all major real estate development projects and joint properties in Dubai, including private development zones and free zones. The new law is part of a package of legislation and regulatory decisions aimed at enhancing the capabilities of the real estate sector, strengthening its competitiveness, encouraging investments in it, and guaranteeing the rights of all parties involved in the sector, be they owners, tenants, investors, or real estate developers. It also outlines the commitment to ensuring that the real estate sector continues to make a major contribution to Dubai's overall development.

HE Sultan Butti bin Mejren, Director General of DLD, announced the launching of Law No. (6) of 2019 on joint ownership properties in Dubai, expressing his happiness to the media and interested parties and praising the fruitful cooperation with all relevant parties in covering all matters related to the real estate sector. He said: "I am delighted to announce the adoption of His Highness' Joint Ownership Law which will contribute to enhancing transparency and consolidating global leadership in the real estate sector in Dubai. We are pleased to announce the Mollak system, which will make common service charges smooth and easy to pay."

HE Eng. Marwan bin Ghalita, CEO of the Real Estate Regulatory Agency (RERA), emphasised the latest updates on the joint ownership of properties and welcomed participants to an open panel discussion. He said: "Today, we would like to highlight the updates, development, transparency, and confidence that this law will bring to the Dubai real estate market. We hope to achieve its objectives and understand its purposes, especially as it provides better services to common areas that gain investor confidence in the Dubai real estate market." The law covers all common grounds, property management companies, and developers. On-ground implementation has already begun, and the team is fully prepared and prepared to implement and act accordingly. The figures show some advantages in re-registering all units and property management companies, while the Mollak System is ready for use by all developers and property owners.

HE Judge Abdulqader Mousa, Chairman of the Rental Disputes Center (RDC), said that the centre is now in its seventh year and has been able to complete lease cases for up to eight days. "Following the promulgation of the Joint Real Estate Ownership Law, we have added a new mandate to the centre, namely disputes relating to common real estate issues, in cooperation with RERA and Emirates Real Estate Solutions. We managed a complete technical system for this type of case and have formed Trial Chambers, Appeals, and Implementation Requests for Service Fees. There are adjudicators, which will be judged on the same day, in addition to the option of remote litigation, without the need to attend hearings to adjudicate this case; the law will be applied as of tomorrow. '

Majid Al Marri, CEO of the Registration and Real Estate Services sector at DLD, said that the Real Estate Registration and Services Sector will focus its attention on the real estate register of common property, including all land owned by developers of joint properties, such as parking spaces and open spaces, pointing out that the law will resolve any disputes concerning these types of properties, for easy segregation and determination of responsibilities and duties.
Khalifa Al Suwaidi, CEO of Emirates Real Estate Solutions, said that Emirates Real Estate Solutions is working closely with DLD and has developed several applications to enhance technology in the real estate sector.
"The purpose of these tools is to facilitate people's lives in the management of real estate services throughout Dubai. One of our latest initiatives is to establish transparency and provide accurate numbers for owners within the Emirate to know all the details of service fees. Furthermore, it will be easy for property owners to settle their service fees electronically using the Smart App, and we have developed the Dubai REST app as a wallet that will allow owners to pay the services approved by DLD without having to go to the joint ownership property management.
Significant figures and statistics from Mollak system reveal that 231,277 units and 1,240 buildings were registered in the system, while the number of real estate management companies registered was 89. The system issued more than 45 thousand invoices, and in terms of bank accounts of joint-ownership properties operating under escrow accounts, there are 1,191 General Fund bank accounts and 1,191 Reserve Fund bank accounts.

The number of ten financial auditors are accredited and ten banks are approved by RERA for these accounts. The total amount of service fees audited in the current Mollak system (according to the new system of work and in cooperation with the accredited audit offices of RERA) reached AED 1.3 billion, while RERA also expects to approve up to AED 4 billion during the next phase.
The Mollak system is the first integrated global electronic system for real estate governance that was established by Emirati cadres. It comprises an online automation process that requires developers and joint ownership property managements, through their managers, to provide accurate information regarding the services provided in joint ownership properties so that RERA can approve the service fees. This system also assists joint ownership property owners, ascertains smooth and easy operations with property managers, and provides a new and integrated structure to monitor accounts related to service charges in these projects by relying on the financial accounts that operate as per the mechanism of the escrow account.