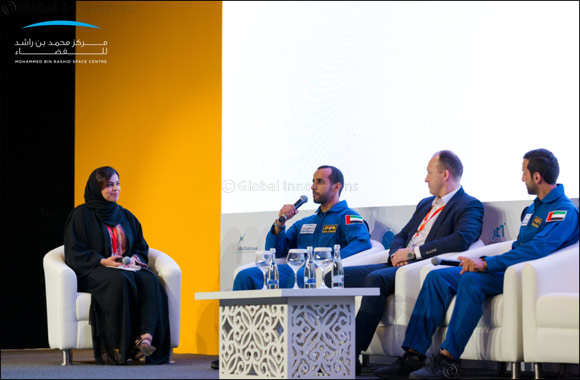 Dubai United Arab Emirates - November 14, 2019: The third day of the 22nd edition of the International Academy of Astronautics (IAA) Humans in Space Symposium (HIS), discussed overcoming challenges to human health and performance during exploration spaceflight missions, in participation with Roscosmos, the Indian Space Research Organisation (ISRO), China National Space Administration (CNSA), and the astronauts and experts in the space sector. Held at the Dubai International Convention and Exhibition Centre, the UAE is the first country in the MENA region to host this conference.

In a session with school and university students, Hazzaa AlMansoori and Sultan AlNeyadi, the two Emirati astronauts, shared their insights on the UAE's first mission to space, the challenges they faced in preparation for the mission, and their vision for future missions.

Sumaya Alhajeri, Head of Space Policy and Regulations at the UAE Space Agency, gave a presentation on the UAE's National Space Strategy 2030, which aims to achieve the UAE's vision in the field of space exploration, technologies, and application, and the National Plan for the Promotion of Space Investment.

Furthermore, William H. Paloski, from NASA, discussed overcoming challenges to human health and performance during exploration spaceflight missions.

Day 3 witnessed a panel discussion on the strategic vision for the use of the International Space Station (ISS) and the lunar vicinity as human research analogs for future Mars missions. The panelists for this session were Julie A. Robinson, Sam Scimemi, Michael C. Waid, Oleg Kotov, and William H. Paloski.

Day 3 also discussed Russian psychophysiological space experiments aboard the ISS for the benefit of interplanetary flights, the psychological and psychiatric aspects of a mission to mars, the ISRO's human spaceflight programme: GAGANYAAN, and the challenges of space medicine in the process of deep space exploration.

The day shed light on the Chinese Human Spaceflight Programme and future plans, the long-term life support experiment for survival on the Moon: 'Lunar Palace 365', and enabling exploration and pioneering scientific discovery in the NASA Space Biology programme.

The agenda also included workshops on the challenges for future spaceflights and neuroscience.

IAA, which is based in Paris, France, is an independent non-governmental organisation recognised by the United Nations in 1996. Through its distinguished international programmes and conferences, the IAA aspires to promote the development of space navigation for peaceful purposes and to honour individuals who have distinguished themselves in space science and technology.