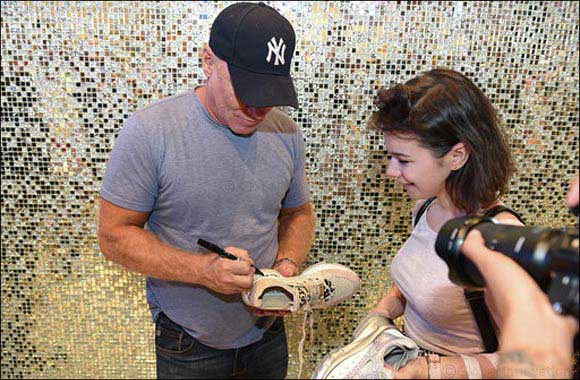 Dubai, United Arab Emirates, 14 November 2019: To mark the brand's 30th anniversary, American footwear mogul, Steve Madden, visited Dubai to celebrate and visit the recently renovated store at The Dubai Mall. Set to be the largest flagship store in the world outside of the USA, the new outlet welcomed the city's trendiest crowd over the weekend and is reflective of the Dubai's thriving fashion scene.
The iconic brand also staged a three-day pop up display at The Dubai Mall, showcasing Steve Madden's trendy shoe collection and putting on a whole host of exciting activations for customers.
Commenting on the visit, Ahmed Al Khaja, CEO of Dubai Festivals and Retail Establishment (DFRE), said: "Steve Madden's visit marks a momentous occasion for Dubai, as we increasingly welcome global fashion giants who choose the city for their launches and major activations, establishing Dubai as the fashion capital of the Middle East. The new store has been intelligently designed with the customer in mind and is an example of the increasingly forward-thinking strategies employed by retailers in Dubai."
"It's an exciting time for us as the brand is completing 30 years and the celebrations commenced from Dubai in the presence of Steve himself. It was an overwhelming experience to see the excitement and delight of the crowds as they interacted with Steve at the Dubai Mall store.
Steve's energy and enthusiasm is always so contagious, it does have a significant impact on the environment around you. It was truly a memorable day for all of us at Landmark Group." said Dinesh Shahani, Chief Operating Officer, Landmark Group.