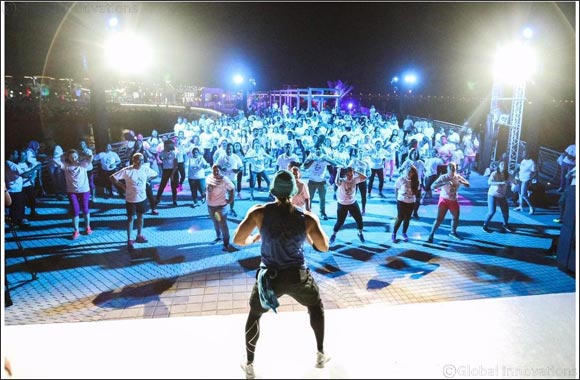 RAK Hospital's "Let's Beat Diabetes" programme to provide free health checks, complimentary Cardiac and Eye Screenings along with free consultations with the specialists
Initiative to be kicked-off through a Fun Zumbathon event on 15th November at Marjan Island
Focus on screening existing diabetics for cardiac and eye health and identifying undiagnosed diabetic patients
One in 2 people suffering from Type 2 diabetes is not aware of his/her condition
At least 68 percent of diabetic patients above the age of 65 with diabetes die from some form of heart disease
November 13th 2019; Ras Al Khaimah, UAE: Initiating a massive diabetes awareness and management drive in Ras Al Khaimah, RAK Hospital launches its "Let's Beat Diabetes" campaign on the occasion of the World Diabetes Day. The programme will officially kick-off through a Fun Zumbathon Event being organised on Friday, November 15, 2019 from 7 pm – 9 pm at Marjan Island in Ras Al Khaimah.
"It's our commitment to contribute to UAE's goal of reducing the prevalence of diabetes in the country by 2021. Moreover, by launching the initiative through a fun event, we want to simply convey that exercise and fitness doesn't need to be boring and we can dance out diabetes and other illnesses by simply engaging ourselves in any form of physical activity which helps us move. I would like to encourage and invite people to come forward in large numbers for the Zumbathon event as well as for screenings and take preventive measures towards their health and wellbeing" , commented Dr Raza Siddiqui, Executive Director at RAK Hospital.
With the aim to educate masses on diabetes and to empower them with the tools to fight, prevent and manage it effectively, the campaign has a two-fold objective: screening existing diabetics for related chronic health issues, and identifying patients suffering from the ailment, who have not yet been diagnosed. The programme invites RAK residents to a free cardiac and eye screening as well as free consultation with specialists to provide guidelines on managing and controlling the chronic disease.
The hospital is also collaborating with the emirate's government and corporate sector to screen office goers at their premises for diabetes and cardiac health.
Globally, one in 2 people suffering from Type 2 diabetes is not aware of his/her condition while four out of five parents have difficulty spotting warning signs of diabetes in their children. The statistics shared by International Diabetes Federation (IDF) further estimates that by 2020 around 32 percent of UAE's adult population (between 20 – 70 years) will be either diabetic or pre-diabetic.
"Diabetes is predatory by nature and often leads to other chronic health issues out of which cardiac episodes and retinopathy are among the two most common outcomes. In a situation like this our immediate concern is to control the disease through proper management so that it does not impact other organs. However, the bigger concern is the sizeable population that is not even aware having diabetes, and which is at a higher risk of suffering from cardiac and vision issues," commented Dr Jean Marc Gauer, Head of Department, Surgery and CEO at RAK Hospital.
As per the Heart.org website, at least 68 percent of diabetic patients above the age of 65 with diabetes die from some form of heart disease whereas 16 percent die of stroke. The relationship between the two is so strong that cardiovascular diseases are considered to be the most common cause of death in people with diabetes. Similarly, diabetes is one of the most common causes of blindness worldwide and early detection can reduce the risk significantly.
"Through this campaign we're reaching out to the RAK residents to convey the message that diabetes is not an isolated ailment. To manage and control the disease we need a holistic approach that takes into account consultation with cardiologist, neurologist, ophthalmologist and endocrinologist, among others," added Dr Raza.
Keeping in view the comprehensive treatment that diabetes requires RAK Hospital, recently launched a Diabetes Passport which records a patient's key medical details including, BP, body weight, lipid profile, annual eye test results, cardiac results and kidney and liver function among others jobs. The main purpose of the passport is to converge a diabetic patient's medical history, doctor's appointments, lists of medication and other checkpoints and reminders in one place.