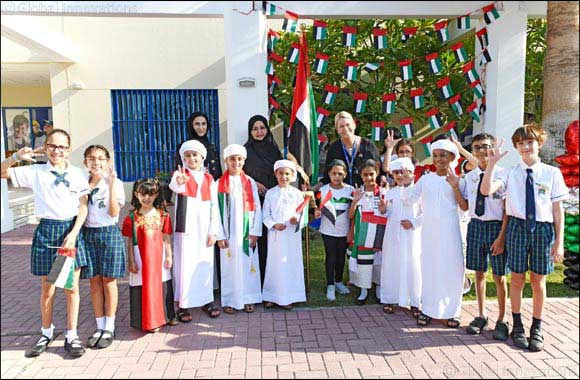 • GEMS school celebrates Flag Day with a UAE royal guest
• To mark the celebration, the school planted 'Jumeirah Primary School Tolerance Tree'
Dubai, United Arab Emirates - November 05, 2019: GEMS Jumeirah Primary School hosted a royal guest, H.H. Sheikha Fatima Bin Hasher Bin Dalmook Al Maktoum along with an audience of GEMS Education VIPs as well as students, teachers and parents, to celebrate UAE Flag Day.
As part of the celebration, GEMS students introduced the morning event which saw the chief guest planting the 'Jumeirah Primary School Tolerance Tree' in the school's garden surrounded by UAE flags embedded with school family names.
The event was attended by more than 100 people with the ceremony taking place at the main hall where the students presented a choir performance of – 'I Am A Small Part of the World', symbolising tolerance and peace.
Chairwoman and Vice Chair of the Parent Teacher Association, Kirsten Human and Heba Lashin, addressed the audience and stressed on the continued significance of the celebration of Flag Day in the country. The royal guest also presented selected Emirati children with their new badges and awarded them the title of 'JPS Emirati Ambassadors'.
The faculty members also highlighted the outstanding PTA work done by showcasing a video of the charity work of the school. GEMS Jumeirah Primary School is the only primary school in Dubai to have raised funds to build schools in developing countries. The PTA works together with the school on several initiatives and so far, their donations have helped in opening of new schools in Nepal and Malawi, and recently in Cambodia. Donations have also gone towards the early education programme in Jordan for Syrian refugee camps.
Principal and CEO of GEMS Jumeirah Primary School, Rachel Higgins underlined the importance of Flag Day during the ceremony and said; "The UAE flag represents the meaning of justice, peace, tolerance, power and moderation, under which we all live. As part of the ceremony JPS launched a new committee called, 'The JPS Emirati Ambassadors', the children will work alongside the JPS school council, work on charity events and teach the children about Emirati culture.
GEMS Jumeirah Primary School provides first class education based on the English National Curriculum. It is one of the most sought-after primary schools in Dubai teaching students from Foundation Stage to Year 6.
The school has excellent facilities and is located in the heart of Dubai's most prestigious residential area, Jumeirah. The campus and its facilities provide a bright, well-resourced environment for the students. Additional specialist teaching areas, staffed with well-qualified practitioners, enhances teaching and learning for the students. There are over 70 nationalities represented at GEMS Jumeirah Primary School, reflecting the cosmopolitan nature of the host city.