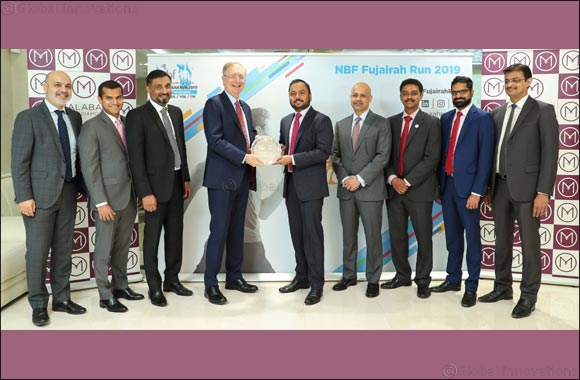 This is the 3rd consecutive year of the NBF Fujairah Run and the event is set to welcome over 2,000 participants
31 October 2019: National Bank of Fujairah PJSC (NBF) has secured a sponsorship from Malabar Gold & Diamonds, significantly strengthening the offering and profile of the bank's annual Fujairah Run this year, which is taking place on the 22nd of November. This is the third year in a row the bank partners with Malabar Gold & Diamonds to further bolster its efforts to increase sports not only in Fujairah but across the wider UAE.
Commenting on the partnership, Mr. Vince Cook, CEO of NBF said "We have been working behind the scenes to secure strong local support for our annual Fujairah Run, in order to expand the event's reach. This partnership in its third year gives us more resources to elevate the overall participant and spectator experience. The collaboration with Malabar Gold & Diamonds will further broaden awareness not only for the run, but for our joint commitment to contributing to a healthy and fit community, setting an example for importance of an active lifestyle."
Once again, this year's run will take place under the Patronage of His Highness Sheikh Mohammed bin Hamad bin Mohammed Al Sharqi, Crown Prince of Fujairah. Runners of all levels are expected to compete in the 3km, 5km, 10km races as well as 11km mountain trail route, which will take place against Fujairah's stunning mountain backdrop. The 11km trail run is unique in its kind, as the first competitive run route to take place directly through a mountain range. The race will also include a category for People of Determination with free entry for all participants.
Mr. Shamlal Ahamed, Managing Director – International Operations of Malabar Gold & Diamonds, stated that the partnership was a way for the company to promote and inspire the next generation to embrace health and fitness: "This event will no doubt play an important role in further establishing running in the UAE, as well as spurring tourism in Fujairah. With our ongoing partnership in place we see this event becoming an annual fixture in the sports calendar of UAE, in turn raising awareness for the importance of leading an active and healthy lifestyle."
Registration for the event is now open for individuals, families and businesses. Visit: nbf.fujairahrun.ae for more details.
The NBF Fujairah Run 2019 secured sponsorship from many other partners, some for the third year running, significantly strengthening the offering and profile of this year's run. They include:

UAE Exchange, United Steels Industries, Rosy Blue, Splendour, Allianz Marine, Fujairah Natural Resource Corporation, Fujairah Free Zone, Fujairah Port, Nikai, Fujairah National Group, Fujairah Adventure Club, Fujairah TV and Radio and Mahraj.