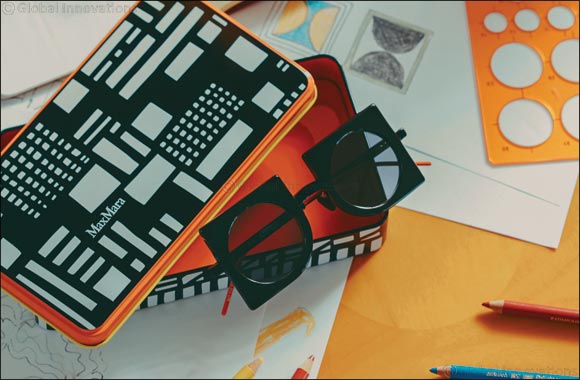 The project
Dubai, United Arab Emirates - October 28, 2019: Max Mara is proud to announce its collaboration with CoopDPS, creative duo Nathalie Du Pasquier and George Sowden.
"NEOPRISM" stems from the collaboration between industrial designer George Sowden and painter Nathalie Du Pasquier.
Together, they designed the new MM DPS sunglasses, starting from the shape of the logo of the "PRISM" collection, which is a combination of a circle and a square. The front is characterized by this combination of geometric shapes, that conveys their idea of the Max Mara woman and expresses, at the same time, femininity and functional aesthetics.
The new sunglasses are exclusively available in black with grey lenses and red temple tips or in orange/black with red temples and yellow tips. The MM DPS sunglasses are produced in a limited edition of 800 pieces as part of the Fall/Winter 2019 Max Mara eyewear collection. A fine interplay of saturated tones and geometries defines both the sunglasses and the packaging, which comprises an exquisitely printed metal box and a soft black case.
Painter Nathalie Du Pasquier and industrial designer George Sowden met back in 1979 and, since then, have worked together on various projects.
The new Max Mara Eyewear collection will be available at Max Mara boutiques and high-end opticians worldwide, as well as online at maxmara.com starting Fall 2019. The Max Mara collection of sunglasses and optical frames is produced and distributed by the Safilo Group.
NEOPRISM is the fourth collaboration between Max Mara, Safilo and contemporary artists, following the successful projects "Optiprism", "Prism In Motion" and "Lavaprisms".

The Artists
CoopDPS
CoopDPS is the name that George Sowden and Nathalie Du Pasquier have decided to use to sign their collaborative works. In the 80s they often worked on common projects using their names. In 2014, after years that they had not worked together, they decided that the collaborative works would have had the CoopDPS brand because things done together are di!erent from those that each processes on their own. They are mainly works related to experiences on decorated surfaces that George had started in the 70s and then Nathalie and he continued to grow enriching them with the passing time and experiences in other fields that they both continue to do.

George Sowden
Bio
Born in Leeds, UK, 1942, George Sowden moved to Milan, in 1970. His first important work in Italy was at Olivetti and during the 1970s he produced drawings, made experimental works and began his research related to the renewal of decoration in design, which continues today.
In the 1980s he came to the attention of the wider world of design as a co-founder of the now legendary Memphis group.
Following the 70s and the 80s, years of intense and radical experimentation, Sowden continued his work with some of the world's leading companies, winning the Compasso d'Oro in 1991 with a product designed for Olivetti.
2011 was the 30th anniversary of SowdenDesign, the studio he set up in 1981, and also the start up of Sowden, his own name brand and the first products to directly carry the designer's name.
Over the years of his career he has continued a personal interest in working with craft and small industrial organisations, of which much of his work is a consequence.
An overview of his work can be found on www.georgesowden.com

Nathalie Du Pasquier
Bio
Nathalie Du Pasquier (born 1957, Bordeaux, France) lives and works in Milan since 1979. Until 1986 she worked as a designer and was one of the founders of the Memphis group. She has created numerous 'decorated surfaces" for fabrics, carpets, laminated plastics, furniture and objects. Since 1987, painting has become her main activity. From the Still Life to the surreal landscapes of the '80s and' 90s, her work has gradually shifted towards more abstract compositions, paintings of models and constructions created by herself, in which she investigates the relationship between shapes and volumes in space.
Among the most recent personal exhibitions: Apalazzo, Brescia; Greta Meert, Brussels; MGLC, Ljubljana (2018); Camden Arts Center, London; ICA, Philadelphia;Pace Gallery, London; La Loge, Brussels; Kunsthalle Lissabon, Lisbon (2017) / Mega, Milan; Exile, Berlin; Assab One, Milan; Kunsthalle Wien, Vienna (2016).