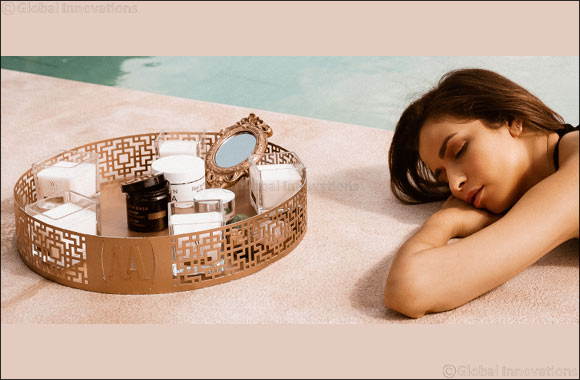 partnered with The Product House - Dubai
Inspired by the most authentic traditions of wellness, Maison d'Asa creates inspirational journeys through gateways to the world, that embellish rituals to create unique sensory journeys of body and mind.
Maison d'Asa merge these sensorial signature treatments with a 100% organic certified range of skin and body care, aromas and home experiences. Influenced by traditional ingredients from the earth such as Argan, prickly pear and Jasmine, ensures its individual standing in the region.

Anantara Spa at Anantara The Palm Dubai Resort is now launching, a bespoke series of indulgent Moroccan Hammam rituals reminiscent of ancestral tradition of authentic bathing, at a Breakfast Press event on 22nd October at 9am. Along side Maison d'Asa, these journeys were conceived in conjunction with their unique range of products to support the ceremonies, such as their array of iconic Black Soaps and purifying signature Rhassoul Clays. The brand is closely identified with fresh, natural flowers and fruits of the region including Oud, Sandlewood, Neroli, Moroccan Rose and exquisite citrus fruits such as orange
blossom.
Maison d'Asa are now pleased to present the Anantara Spa bespoke Hammam Ceremonies. TRADITIONAL PURIFICATION with a steam and deep exfoliation of black soap with lavender and a traditional Kessa mitt, cocooned with a rose blossom body mask. Invigorating citrus exfoliates the feet
whilst hair is cleansed with green tea. Culminating in a rose spritz and nurturing sandalwood body oil.

TREASURES OF MOROCCO delivering a deeply reviving experience, promoting circulation and enlivening the skin. Peppermint Black Soap with Kessa mitt and honey scrub body exfoliation. Lemon hand and foot exfoliation and a deep cleansing verbena body mask creates ultimate renewal of the
skin and senses. An Argan Oil facial treat combined with a green tea and Argan hair treatment culminates with an awakening orange blossom body mist & sweet orange body oil.

ANANTARA SPA ROYAL HAMMAM encapsulates the true historic traditions of Hammam with a flair of decadence. A steam experience and Eucalyptus Black Soap exfoliation is initiated with Kessa mitt.
A sweet honey exfoliation then merged with a Neroli body mask and restoring Argan facial polish with purifying green clay facial mask. Feet are exfoliated with minted bath salts. An age defying elixir of rare prickly pear complements the organic Argan Oil hair serum and Oud body mist with a sandalwood oil finale.
Commenting on the launch, Janette Gladstone-Watts, founder of The Product House says: "We are delighted to launch the signature rituals at Anantara Spa at one of the leading Hammams in the region. The brand befits exclusive properties such as Anantara The Palm Dubai Resort and we have been looking for an effective yet indulgent and elegant Hammam brand in the Middle East for the last 15 years, surpassing other Hammam brands and matching the calibre of 5 star hotels in the region - working along side Anantara and Maison d'Asa is a dream!"

Asma El Mernissi , Founder of Maison d'Asa believes: "It is a great honour for me to collaborate with a prestigious brand such as Anantara. Hammam is an important part of my culture, my childhood and my life and it has always been a privileged moment I used to share with my mother and my grandmother and as grew I realised how important such a moment can be for oneself to purify the body and mind.

Therefore, when I founded Maison d'Asa It was important for me to create unique Hammam ceremonials that would not only be exceptional by the richness of its composition but also by the magnificence of its experience. Luckily, Morocco is a very rich source of natural products with amazing cosmetic properties and I am delighted to present this to you at Anantara The Palm Dubai Resort" We are pleased to invite prestigious press and influencers to our event launching the brand and rituals to experience the signature treatments, exclusive ambient products, learn about the brand and tour
the spa and join us for Canapés at Breakfast.