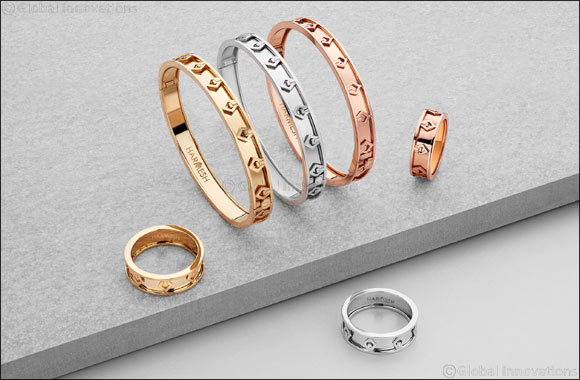 Dubai, United Arab Emirates - October 24, 2019: Harmesh Jewellery, the homegrown jewellery brand for the modern woman, serves as the perfect embodiment of simplicity and elegance with sleek and minimalist designs. Dedicated to creating wearable yet versatile jewel treasures, Harmesh Jewellery has been at the forefront of redefining contemporary yet luxurious pieces for your jewellery drawer.
Founded in 2017, Dubai based Harmesh Jewellery is the brainchild of a Saudi-Emirati jewellery designer Eman Almahri. With her love and passion for jewellery Eman opened her first boutique in West Zone Mall, Al Mizhar. Harmesh jewellery is contemporary, yet bold and elegant with luxury aesthetic. Working with 18K gold and diamonds, Harmesh Jewellery empowers the strong and modern woman.
"As I grew up I started wearing jewellery but it was more basic and edgy. that's where I decided to launch a label with modern designs. With my pieces, from gold bangles to diamond encrusted pendants, I wanted to keep in mind the woman of today," says Eman Almahri, Founder of Harmesh Jewellery.
Eman who first worked as an architect has always been passionate about jewellery design. She grew up watching her mother, aunts and elder sisters wearing different traditional pieces of pure gold accompanied by beautiful jalabiyas. And thus, was the idea born of creating a jewellery line that was traditional in nature, albeit with a modern and contemporary feel. Eman worked on designing timeless pieces that further empower the strong and modern women of today.
The collection of jewellery includes rings, necklaces, earrings and bracelets and are available in-store and online with worldwide shipping. Harmesh Jewellery includes three timeless collections of diamond studded pieces that feature fine detailing and exceptional design work. Identity is a signature collection and includes jewellery featuring both traditional and contemporary designs. Simplicité is inspired by the power, luster and source of diamond. The Simplicité collection features simple and elegant jewellery that can be for different occasions, day and night. The Vibrant collection adds a touch of color to the collection and symbolizes happiness, enthusiasm and powerful woman that's full of life.
Harmesh Jewellery is available on www.harmeshjewellery.com and in-store at West Zone Mall in Almizhar, Dubai.