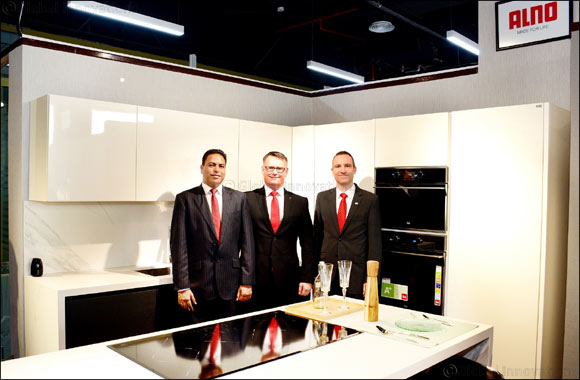 Dubai – October 15, 2019: Alno, an industry leader in kitchen hardware design since 1927, announced the launch of its new product line-up for the UAE market in association with Diemme Kitchen. The new products have been launched with a focus on the UAE customers and have been designed around new emerging trends in the kitchen décor market.
"We are glad to relaunch Alno into the UAE market in association with Diemme Kitchen. Our new branch is the first in Dubai and we are anticipating that the wide diversity of our collections is a perfect match for the varied demographic population residing here. ALNO delivers creative product design which is showcased in a mix and match styling that brings to life optimistic and enjoyable decorating ideas," said Michael Spadinger, Head of Global Sales at Alno, being convinced for the brand's success in the UAE market.
Abdul Kalam, Business Sales Director at Alno, said, "We are glad to partner with ALNO German Kitchens and welcome them to the Gulf Cooperation Council region. We had a very successful start and are already receiving great feedback in terms of interest from our customer for the new product range. The UAE is a lucrative market for our business. We are glad to offer Alno's premium design hardware through our strong partnership."
Alno created a huge buzz at the re-launch event held in Dubai recently, unveiling the product additions to the already successful collection. The new line of products reflects the modern lifestyle of the millennial customers be it consultants, contractors or developers of all nationalities in the UAE whether citizens, Europeans or Asians. Although designed for the modern customer, the kitchen fixtures have distinct roots to the past.
For the ease of reaching out to the UAE customers, Alno revamped its retail display unit and opened a new high-street store at Salah Al Din Street in Abu Hail, Deira, Dubai. The new showroom offers larger product display area for different sizes. Each display features top-selling Alno products – ranging from Wood, Ceramic and glass door panels and interior storage equipment to new-age drawer systems.
Alno, known as pioneers in the kitchen hardware segment, offers the latest design and modern trends to its customers with products designed with precision engineering, durability, practicality and abundance of designer style.