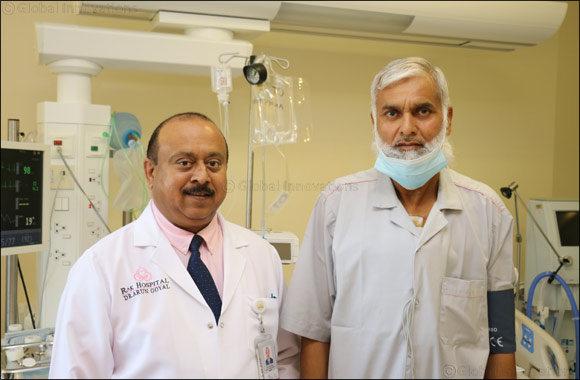 The 49-year-old patient collapsed while delivering water bottles; five of his arteries were blocked between 70 to 100 percent
He was urgently shifted to RAK Hospital where he underwent Rescue Angioplasty on one vessel followed by CABG for four blockages in his arteries
Dubai, United Arab Emirates - September 30, 2019: Ras Al Khaimah: Being at the right place and the right time could be the difference between life and death as proved by the case of Mohammad Siddiqui who suffered a cardiac arrest, and yet survived. The 49-year-old Pakistani expat was on duty delivering water when he suffered chest discomfort and collapsed; luckily for him, he was immediately administered resuscitation and repeated shocks that brought him back to life. A quick ECG also confirmed that he had suffered heart attack.
Mohammad was then rushed to RAK Hospital in Ras Al Khaimah where he was directed to the Cath lab. Coronary Angiography results found that five of his arteries were blocked between 70 to 100 percent. The patient immediately underwent Rescue Angioplasty for the right coronary artery that was completely blocked. This was followed by off-pump coronary artery bypass grafting (CABG) where doctors put four more grafts in his blocked arteries. Thanks to quick action Mohammad was back on his feet within a week.
"We all know that the first hour is crucial when it comes to heart attacks, and the medical help a patient gets in that time period can prove to be a life saver," said Dr Arun Goyal, Senior Consultant and Head of Cardiac Surgery Department at RAK Hospital, "However, what we often see is that often people fail to recognise the symptoms or wait for the discomfort to pass away, thinking they will consult a doctor later. The unfortunate case of stand-up comedian Manjunath Naidu who died of cardiac arrest on stage is one such example where people around him did not recognise his condition.
"And while it's important that you recognise the first sign of heart attack, it is equally important that when such a thing happens, you should call a doctor and not a friend since this is a medical emergency that needs to be dealt with expertise. Taking the correct action can save your heart from significant and long-lasting damage," added Dr Goyal.
Doctors also warn that heart attack symptoms, such as recurrent unaccustomed chest pain, can begin to manifest weeks in advance and should be addressed seriously.
Dr Raza Siddiqui, Executive Director of RAK Hospital also stressed on the timely action for a cardiac patient, adding, "Ahead of World Heart Day, this is one message we would like to reiterate. Given the high incidences of cardiac issues in the UAE, we need to create more awareness and ensure that we are always prepared in case of an emergency".
The patient Mohammad thanked RAK Hospital staff for their medical expertise and care.