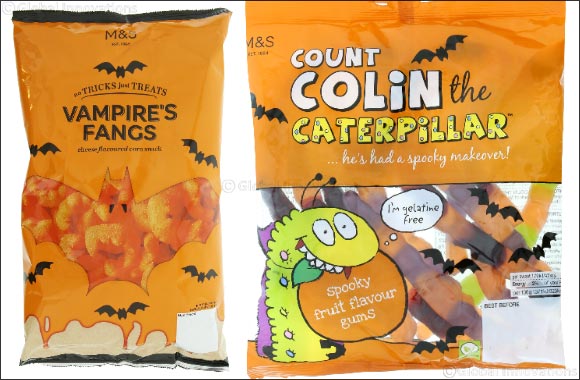 Dubai, United Arab Emirates - September 21, 2019: Marks & Spencer promises a range of spooky snacks and delicious treats to see in the scariest night of the year in style. This Halloween, Colin the Caterpillar has been transformed into an assortment of eerie fruit flavoured gums to make taste buds scream in delight, while Fizzy Whizzy Wings are so sour, they will send anyone batty!

For those looking to stock up on snacks for trick or treaters, Marks & Spencer offers deliciously tasty Gruesome Body Parts. Containing fruity jellies in 10 mini bags, children will be spookily surprised by these scrumptious goodies.

Throwing a spooky soirée? The mouth-watering Chocolate Severed Fingers will mysteriously vanish within seconds, while the Vampire Fangs – think salt and vinegar flavoured corn snacks will leave anyone screaming for more.
This Halloween Marks & Spencer promises no tricks, just treats!