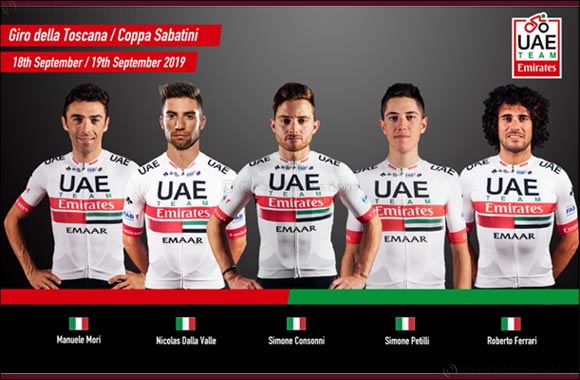 Dubai, United Arab Emirates - September 17, 2019: As the dust settles on UAE Team Emirates' success at the Vuelta a Espana, an all Italian squad of five head home to compete in two back-to-back one day races with the 195.5km Giro della Toscana in Lissone (September 18) and the 198.2km Coppa Sabatini in Legnano (19 September).
Sports Director Marco Marzano will lead the following riders:
• Simone Consonni
• Nicolas Dalla Valle
• Roberto Ferrari
• Manuele Mori
• Simone Petilli
Marco Marzano, Sports Director said: 'The route of the Giro della Toscana is selective, and Petilli is our rider with the best qualities for this type of race. As for the Coppa Sabatini-GP Peccioli, it can suit a lot of different riders, and as it can also suit a fast finisher, Consonni for example has what it takes to do well".
Later in the week the squad, without Dalla Valle, will be joined by Valerio Conti, Rui Oliveira and their leader Diego Ulissi to take on the iconic 199.8km one day race in memory of Marco Pantani (21 September)
Diego Ulissi said: 'In three participations at the Memorial Pantani I had a win and a second place, so I can safely say that I have a good relationship with this race. I'll be arriving here after a block of racing in Canada and before the World Championships, so it will be a great opportunity to build both confidence and form ahead of this race".