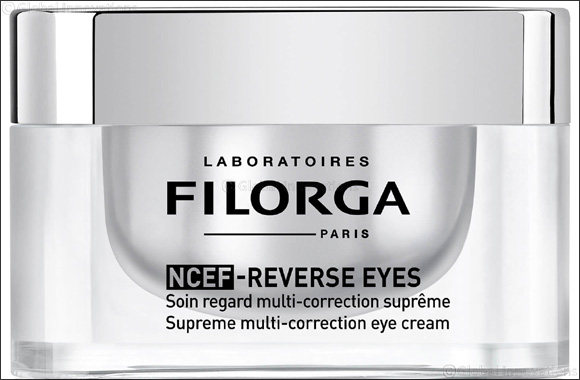 ** Supreme Multi-Corrector **
Dubai, United Arab Emirates - September 09, 2019: The eyes are the windows to the soul, revealing inner beauty! With that in mind, it's no wonder that today's women spend so much energy pampering and caring for this area that is important to their beauty.
Like the rest of the face, the eye area can be damaged by weather, fatigue, stress and pollution. Its weak point? The skin in this area is four times thinner than on the rest of the face and is subject to constant motion by twenty-two hyperactive muscles (at least one contraction every ten seconds). In sum, that means that the eye area is the first victim of the signs of ageing. And for women, this adds up to five major beauty flaws they regularly see in the mirror: wrinkles, loss of firmness, loss of radiance, dark circles and puffiness.
Today's women want to not have to choose between smoothing, firming, boosting radiance and reducing dark cirlces and puffiness. They want an all inclusive formula that completely and intelliginetly rejuvenates their eyes.
FILORGA have created NCEF-Reverse Eyes, a smart multi-correction and ultra-targeted rejuvenating action product. It's the first cream to bring eye contour care into the age of "smart cosmetics". Its unique formula combines a high concentration of NCEF, the "house"poly-revitalising complex widely appreciated for its supreme effectiveness, with the high-precision action of the unique GENIUS-VECTOR TECHNOLOGY complex. This new complex by Filorga is a hero, delivering five rejuvenating active ingredients including Hyaluronic Acid+ Multi-Layer Microspheres (wrinkle-smoothing duo), Firming Collagen+Anhydrous Microspheres(firmness-boosting duo), Illuminating Vitamin C+Liposome Microspheres(radiance-promotiong duo), Energising Aescin+Multi-Globular Phytosomoes (anti-dark circle duo) and Decongesting Caffeine+Molecular Patch (anti-puffiness duo) directly to the target cells for revolutionary, smart correction.
The results: Wrinkles, firmness, radiance, dark circles, puffiness..for the first time, eye area renewal is complete with just one cream! You won't believe your eyes!
Filorga NCEF-Reverse Eyes is priced at AED 450 and available for purchase at leading pharmacies including Bin Sina Pharmacies, Boots Pharmacies, Health First Pharmacies and Community Pharmacies.