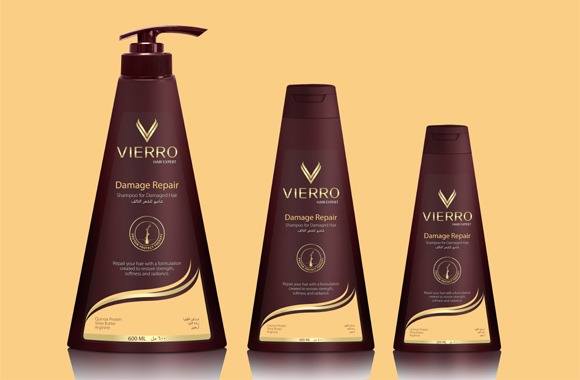 Dubai, United Arab Emirates - September 04, 2019: It's September, and dry hair is probably a big issue among many men and women in this region. More so, if proper care wasn't taken to ensure protection during the past summer months. Dull, brassy, frizzy and dry hair is often a result of exposure to hot air, chlorinated water, and air conditioning too, and it's almost impossible to avoid these in summer.
According to some experts, without proper care, hair becomes so dehydrated at the end of summer that it looks and feels nearly fried. However, the good news is that with Vierro's Damage Repair range, you can make even the most damaged hair look and feel better again!
Vierro's Damage Repair is especially designed to repair hair with its formulation created to restore strength, softness and radiance. Featuring a careful mix of oils and proteins the shampoo helps your hair get healthier with every wash while the conditioner intensely moisturizes the hair, protecting it from further damage.
Vierro's hair experts have crafted a combination of the most unique proteins in the formula to provide hair with the best nourishment science has to offer. Its Protein Protect Therapy is technology that strengthens and protects hair from root to tip. It nourishes the scalp with a coated layer of proteins which promote hair growth. A unique blend of rich natural oils and minerals create a therapeutic hydration experience, leaving hair strong, healthy and shiny.
The Damage Repair collection includes a shampoo and conditioner duo and an oil replacement that features good-for-your-hair proteins including:
Arginine: This amino acid improves the flow of blood to the scalp and the base of the hair. Increased blood circulation to the scalp in turn increases hair growth.
Quinoa Protein: Hydrolyzed quinoa protein forms a protective barrier protecting hair from environmental stresses. It retains necessary moisture while providing essential nutrients to hair.
Shea Butter: From reducing scalp irritation to making hair more manageable, there's a lot a little shea butter can do! Its anti-inflammatory properties help reduce redness and scalp irritation by providing healing effects without clogging the pores. It's also a great moisturizer for dry hair.
Shampoo available in 600ml (AED 19.50), 400ml (AED 14.75), 200ml (AED 8.50)
Conditioner available in 400ml (AED 11.50)
Oil Replacement available in 250ml (AED 11.50)
Vierro products are available at leading supermarkets and hypermarkets in the UAE including Carrefour, Union Coop, Sharjah Coop, Abu Dhabi Coop, Lifco Supermarket, Al Maya supermarket and many other stand-alone super markets around the UAE.