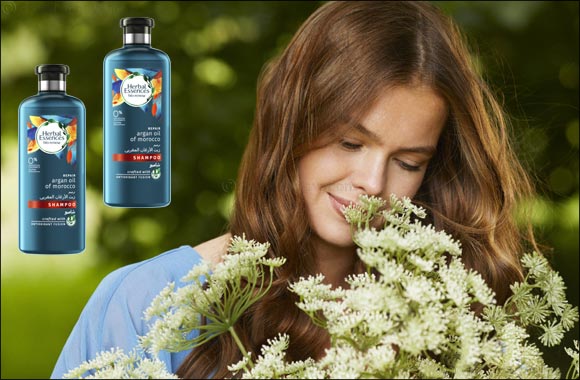 We believe in the power of nature
Dubai, United Arab Emirates - September 03, 2019: You might wonder why a haircare brand is working with the Royal Botanic Gardens, Kew and what we have in common. The answer is simple, we both love plants and botanicals. Kew has more than 350 scientists behind the scenes, making it a world-renowned authority on the potency, purity and potential of plants.
Herbal Essences believes in real botanicals, intoxicating fragrances and indulgent experiences that unleash the positive power of nature. Our bio:renew formulas are botanist approved, with real botanicals identified by the Royal Botanic Gardens, Kew. These botanicals make Herbal hair look healthy and free - just like those that choose it.
Both Herbal Essences and The Royal Botanic Gardens, Kew, are connected by our mutual love for beauty and science.
Herbal Essences bio:renew shampoos and conditioners give you a naturally beautiful hair.
The identification process of Herbal Essences bio:renew
Kew scientists verify the quality of botanicals in Herbal Essences' bio:renew products. These botanicals are selected for individual formulas designed to help hair to protect itself from antioxidant damage. The active antioxidant neutralizes water impurities and free radicals that can be absorbed by hair in the shower.
Although nature is full of variation, Kew's verification technique known as 'botanical fingerprinting' is a reliable and critical step in verifying the purity and potency of each botanical ingredient used in our shampoos and conditioners.
The Beauty of Biodiversity
The Royal Botanic Gardens, Kew in London has more biodiversity than the Amazon rainforest* with over 30,000 different plant and seed species. It has an extensive collection of seeds, dried samples, and living collections, dating all the way back to the time of Charles Darwin. Here, scientists celebrate the world's biodiversity and plant richness and make it accessible to everyone. The Royal Botanic Gardens, Kew and Herbal Essences believe that we must use our collective scientific, biological and botanical expertise to increase our understanding of why plants and fungi matter so much to our lives today and our world tomorrow.