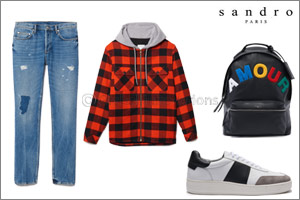 Dubai, United Arab Emirates - September 02, 2019: Streetwear isn't new to the scene as it is quickly becoming a go-to for men and this trend shows no sign of fading.
Whether you're looking to adjust your style quotient, or even develop a new penchant, Sandro has rounded up the top picks for streetwear enthusiasts.
Comfy beanies, tailored jeans and plaid jackets will see you putting your best sneaker-clad foot forward.