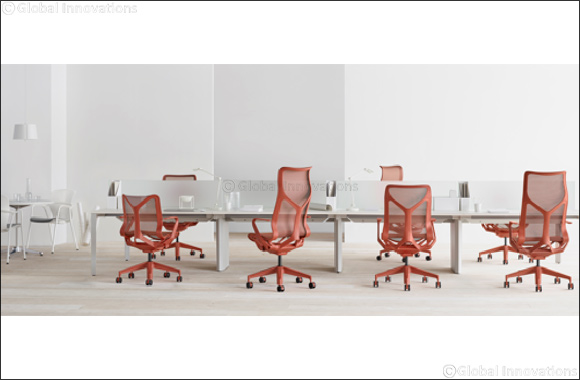 This recent award win rounds out Cosm's first year of success on the market, taking home a suite of awards for the revolutionary design.
Dubai, United Arab Emirates - September 01, 2019: Herman Miller introduced Cosm, designed by Studio 7.5, in Milan coinciding with Salone Del Mobile, April 2018. The chair officially hit the market in Autumn 2018. Over the last year, the market response for this revolutionary chair has been impeccable.
Today, Cosm chairs have been sold to more than 1,700 companies in 90 countries around the world.
Cosm is Herman Miller's first task chair with an automatic tilt. It also has the industry's first suspension armrest. To experience Cosm is—as Studio 7.5 says—to forget gravity. And now people can have that comfort and support no matter how many settings they sit in throughout the day.
As more organizations move toward shared workplaces and work points, and people enjoy the freedom to choose the setting based on the work they need to do, one thing hasn't changed: the need for ergonomic support. Cosm offers exactly this consistency, providing unparalleled comfort and performance, making it not only great for individuals but also the ultimate shared chair. Cosm rapidly adjusts to whoever is sitting in it using its hidden "engine," the Auto-Harmonic Tilt—a culmination of two decades of design research and engineering that further deepened Herman Miller's understanding of how people sit and work.
Carola Zwick, Co-Founder of Berlin-based Design firm - Studio 7.5 said, "We wanted to create a feeling of weightlessness - not an easy task because it required a very complex mechanics. The fact that we succeeded in creating this seating experience in an aesthetically readable object that can now also be used beyond the classical office world confirms our recognition by the Red Dot - best of the Best. We are very pleased about that."
Cosm recently received the prestigious Red Dot Best of the Best Product Design Award—the competition's top distinction in the "Office Chairs" category—for its innovation, functionality, formal quality, ergonomics, durability, symbolic and emotional content, product periphery, self-explanatory quality, and ecological compatibility. These criteria are used throughout the Red Dot's search for "good design and innovation."
Prior to the announcement from Red Dot, many industry organisations recognised Cosm for its revolutionary design with awards and certifications including:
• #MetropolisLikes Award – NeoCon 2018
• Product of the Year at Mixology 2018
• Green Product Award 2019
• Best of NeoCon Gold – NeoCon 2018
• Interior Design HiP Award – NeoCon 2018
• Cradle2Cradle Silver Certification – 2018
• Fast Company Innovation by Design Award – Fast Co Innovation by Design 2018
• Dezeen Workplace Design Award Shortlist – 2018
• Orgatec Innovation Award – Orgatec 2018
• New York DRIVENxDESIGN Gold Award – 2018