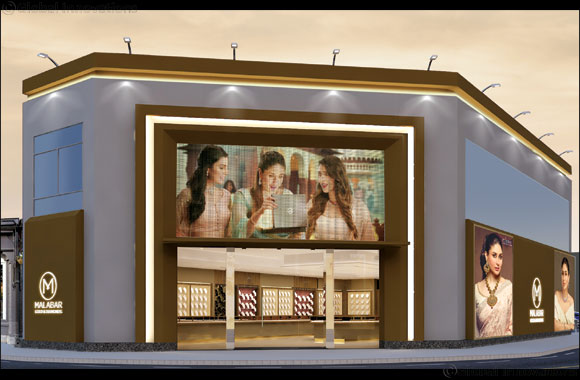 Malabar Gold & Diamonds to open its 2nd outlet in USA at Iselin, New Jersey on 31st August 2019
21 new stores to be opened in the coming 6 months
Malabar Gold & Diamonds plans to extend operations to Bangladesh, Sri Lanka, Australia, Canada, Egypt and Turkey in the coming years
Dubai, United Arab Emirates - 27, August 2019: Malabar Gold & Diamonds, one of the world's largest jewellery retailer, announced ambitious global growth plan in line with the FY 2023 global expansion plan laid down by the brand in October 2018. The brand will be opening 21 new outlets in the coming 6 months.
'We are getting wide acceptance in the global and Indian market place. Our core business values such as adherence to transparency, honesty, quality along with our value added services, product designs that suited to every class of customers' taste cutting across age group are the key factors that give us global acceptance. In 2019 too, we will be opening more showrooms as well as manufacturing units along with skill development centres to groom the youth and absorb them in various job profiles. This will fuel our vision to become the top jewellery retailer in the world." said MP Ahammed, Chairman of Malabar Group.
As a part of its expansion plan, Malabar Gold & Diamonds is all set to open its 2nd outlet in USA at Iselin, New Jersey on 31st August 2019. Their first outlet in USA located at West Devon Avenue, Chicago was opened on November, 2018. The Group currently operates retail outlets spread across ten countries in the India, Middle East, Southeast Asia and USA. Its massive expansion plan will see the company expand its footprint across all Tier 1 and Tier II cities in North and Central India – in order to cater to the growing jewellery market. The company's plan of major expansion in international market includes new territories such as Bangladesh, Sri Lanka, Australia, Canada, Egypt and Turkey.
Malabar Gold & Diamonds is the jewellery retail arm of the diversified business conglomerate Malabar Group that includes other business verticals such as real estate developments, shopping malls, hypermarket, technologies, retailing of home appliances & electronics, watches, franchisee retailing and services.
The new expansion will see Malabar Group increase its headcount to 13,500 professionals on direct payroll and expects to further generate more jobs within the next five years to manage the planned growth and expansion.
The group has a unique business model where its expansion is fuelled by investors who become shareholders in different entities in a very transparent ownership model. Malabar Gold & Diamonds currently have over 4,000 investors under different entities who share the same vision, dedication and passion. Around 19.4 percent of these investors are full time employees with the Group, including the front-end managers and directors.
We will also continue to strengthen our retail foot print in the states where we currently have strong presence. Our unique business model of sharing and caring has worked for us very well and it makes us a transparent and accountable organisation with a solid foundation where all investors have a financial and moral stake in the company.
Malabar Group believes that the most successful companies are those which integrate sustainability into their core business. The group is always proactive when it comes to CSR activities right from the inception. The key focus areas of the CSR initiatives of Malabar Group are in the areas of Health, Education, Women Empowerment, Housing and Environment. The organization has kept aside 5% of its profit for the CSR activities in all the regions that they operate. The group, which currently has showrooms across GCC, India, Malaysia, Singapore & USA undertakes several welfare activities with the association of like-minded organizations in the respective regions.