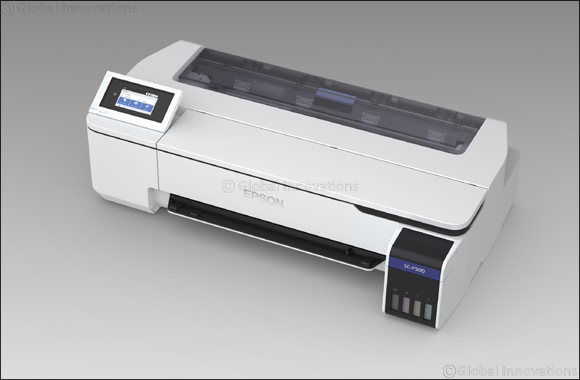 Expand business opportunities with high-quality printing on myriad gifts and promotional goods.
Dubai, UAE, August 22, 2019: Epson has announced the new SC-F500, 24-inch, dye-sublimation printer, developed to help promotional houses, photo labs, clothing producers and copy shops increase customer choice through flexible, high-quality printing. Whether producing printed phone covers, mugs, mouse mats, t-shirts or cushions, the SC-F500 offers fast turnaround times, reliability and a low total cost of ownership (TCO) to small businesses, and it requires no specialist knowledge to set up, operate or maintain.
The SC-F500 forms part of Epson's complete end-to-end printing solution, which includes inks, software and paper, all designed to work in perfect harmony. To keep businesses agile and responsive to customer needs, the SC-F500 has been built with ease of use, productivity and efficiency in mind. This is achieved through features that complement Epson's established dye-sublimation technology, including:
• Refillable ink solution (140ml bottles can be used even when printing)
• Wi-Fi connectivity (an Epson first in the dye sublimation range)
• Media auto-switch (switch between cut sheets and roll media with ease)
• Epson's LFP Accounting Tool (to accurately calculate print costs)
• Head guard (for dust prevention)
• 4.3-inch touchscreen (for ease of use)
Jeroen van Beem, director of sales, Epson MEA, says: "We're excited to offer this dye-sublimation printer that's set to open up new opportunities for many small businesses. This is our first 24-inch printer in our dye sublimation range. What's most rewarding for us is to see just how many applications that are supported by the SC-F500 – the range of gifts and promotional items that can be produced is truly impressive.
We're also confident that the suite of new and enhanced features we've introduced, including the refillable ink solution, will help keep businesses running for longer, with little user intervention needed. That has to be a benefit to ambitious small business owners looking to steal a competitive advantage, without having to have specialist staff."