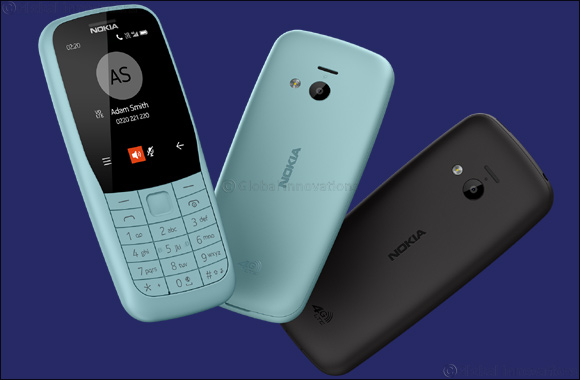 A classic Nokia feature phone, now with readiness for 4G VoLTE HD voice calling, web browsing and all your favourite social apps
Dubai, United Arab Emirates, 20th August 2019: HMD Global, the home of Nokia phones, today announces the Nokia 220 4G, the latest member of its market-leading feature phone family. Nokia 220 4G supports HD voice calls over 4G LTE*, lets you surf your favourite websites with the web browser, and share your updates and content with friends and family through social media. Nokia 220 4G comes with the quality you expect from a Nokia phone as well as all the essentials you need, including games and radio without the need for a headset, all packed in a durable inherently coloured polycarbonate shell that's a classic and familiar design from Nokia.
Juho Sarvikas, Chief Product Officer, HMD Global:
"As many markets transition from 2G to 4G networks, it is our responsibility as a leading brand in feature phones segment to enable our fans make that transition while still benefitting from core values that they associate with a Nokia phone. With the Nokia 220 4G, we are building on what a feature phone can offer to give our fans greater quality calls, helping everyone enjoy HD calling over 4G. Of course, we've included all the essentials users expect, including web browsing, a long-lasting battery and a collection of games that includes Nokia fans' all-time favourite, Snake. All of this comes in a small, durable package, designed for everyday use."

Sanmeet Singh Kochhar, General Manager - Middle East, HMD Global, said:
"As we move to a more connected future, we are committed to delivering exceptional experiences to our customers through the Nokia phone. The launch of the Nokia 220 4G in the UAE means that our fans will be able to enjoy high quality and reliability associated with a Nokia phone. They can also enjoy HD calling over 4G, in addition to web browsing, a long-lasting battery and a collection of games, including Nokia fans' all-time favourite, Snake."
Nokia 220 4G: HD voice calls in a familiar package
Nokia 220 4G brings HD voice calls over 4G networks giving fans a whole new level of clarity to their call audio. Nokia 220 4G also enables you to surf the web with its web browser and stay up to date with your friends and family on Facebook.
The Nokia 220 4G offers a familiar and modern design, protected by a tough polycarbonate body, which is inherently coloured, meaning the colour runs through the material entirely, making sure your phone looks good even after daily bumps and knocks. Additionally, with its classic contoured design, the Nokia 220 4G fits perfectly in your hand.
Featuring all your everyday essentials, the Nokia 220 4G comes with the classic Snake game plus try-and-buy games such as Ninja Up, Sky Gift, Nitro Racing and Tetris. You can also use your Nokia 220 4G as a portable wire-free radio - no messy headset wires needed to play your favourite radio stations. Now, share your favourite stations with your friends or listen to the big sports match live in the office.
The Nokia 220 4G features long-lasting battery life, so you can enjoy web browsing, games and calls uninterrupted.
Pricing and availability
The Nokia 220 4G comes in Blue and Black, and will be available in 23rd August, starting at AED 133.
*The actual availability is subject to local operators' and carriers' services.