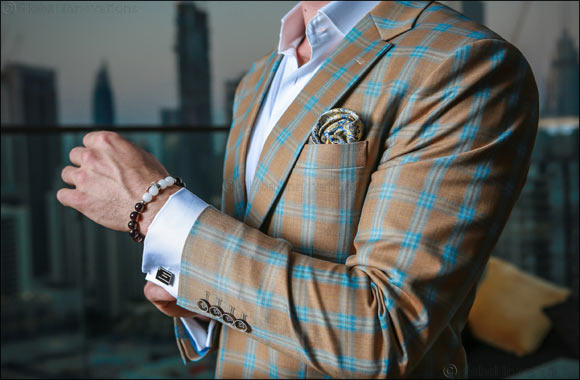 Dubai, United Arab Emirates - 20, August 2019: Kachins Couture is a luxury boutique which specialises in designing bespoke suits. Kachins Couture houses an exquisite range of designs and fabrics to create custom silhouettes and personalised suits for a diverse range of clients.
A collaboration of impeccable merchandise, knowledgeable staff and expert in-house tailoring guarantees an exemplary experience and a quintessential hub for perfect-fit suits.
Kachins Couture has been designing bespoke clothing for discerning male clientele for over 40 years and what makes them special is their ability to offer a global personalised service. Kachins Couture has curated the perfect guide to individulising a suit and making it as unique as its owner.
1. Get creative with suit lining
The suit lining is a subtle way of giving a suit personality. Avoid lackluster shades of grey or black, instead make the lining pop by utilising bold colours and patterns. Try an oxblood red or hunter green for a more formal look or a bright blue or pink for something flashier. Patterns are a unique addition and can be a funky choice, so get inventive with something captivatingly bizarre that expresses your hobbies, or just a traditional paisley twist. They can be great conversation starters!
2. Monogram a dress shirt
A dress shirt monogram is a small embroidery of two or three letters corresponding to the individual's initials. This simple and elegant addition to a dress shirt can be embroidered onto the cuffs, collars, or forearm. It adds a touch of manly charm when done subtly and is ideal for a well-dressed gentleman's suit.
3. A bespoke lapel pin
A lapel pin can transform a classic suit into a fashion statement piece. It can be ornamental or can indicate an affiliation with an organization or cause. Not to mention, lapel pins can add a touch of vintage elegance to a suit. Perhaps it's a symbol that represents a hobby, a favourite sports team's badge or something unique and sentimental.
4. Dress up the sleeves
Cuff links are an element that shouldn't be overlooked. A fun, quirky pair makes for a great preppy and personal look. In a way, they're jewellery for men, so why not make them extra meaningful? Choose a set with a colourful stone that coordinates with the occasion or just a symbol that is uniquely relevant to add some flair.
5. Coordinate with a partner
Finding simple and tasteful ways to coordinate a look with a partner's shows just how much time and thought you bring to a looks. Colour match a partner's dress by incorporating the same colour in a tie or shirt to match without looking identical. Kachins Couture has the colours and the patterns to match for any occasion. Need a little guidance on an upcoming event? Grab a swatch and stop by. They're here to help!