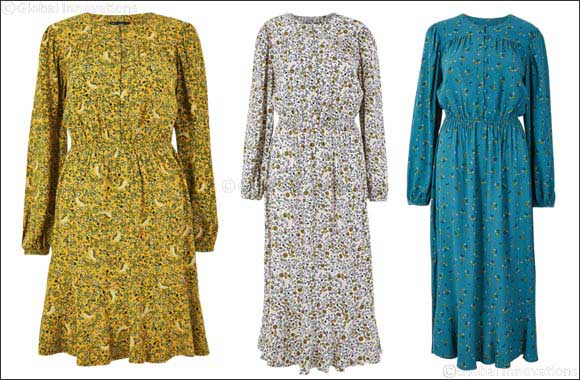 Dubai, United Arab Emirates - 18, August 2019: For Autumn 2019, Marks & Spencer is offering the must-have pieces across its womenswear collection and embracing all things 70s and folk inspired. From trench coats and suits in classic gingham, bohemian style dresses adorned in beautiful paisley prints to stylish midi dresses – think ditsy floral and silk. The new collection from Marks & Spencer showcases the ultimate AW19 trends.
Autumn sees the basics redefined through feminine shapes and playful styling details, while denim emerges as a hero fabric. From the wide leg cropped jeans and the skinny jegging, to dresses and classic jackets – this wardrobe staple has been championed throughout. In addition, trousers and skirts are seen in distinctive prints, while nomad-inspired outfits form a key part of the collection. Mixing, juxtaposing and reassembling prints is key next season and will ensure women are one step ahead of the fashion pack.
The autumnal mood is underpinned by a timeless palette of spicy tones and earthy hues, while a formal silhouette is emphasised in the form of gorgeous fabrics from matte satins to velvet. Paired back and confident, tailoring is also key, softened through feminine layers and stylish prints.
As no collection from Marks & Spencer would be complete without clever innovation – this autumn shoppers can enjoy StaySoft™ technology ensuring jeggings, leggings and jumpers stay soft, wash after wash without compromising on quality. Meanwhile essential jersey tops feature StayNew™ technology so after each wash, pieces are guaranteed to look new every time.