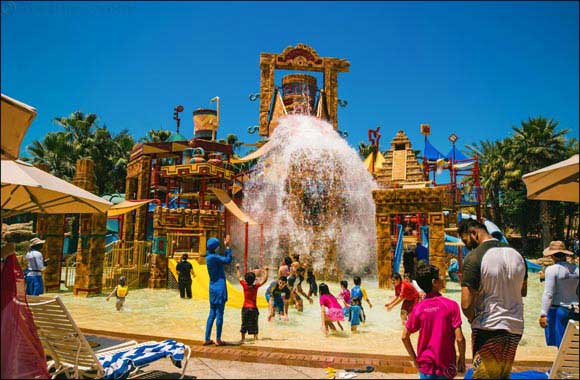 • Bespoke travel packages curated in partnership with ARY, featuring leading Pakistani celebrities Humayun Saeed, Fahad Mustafa, Nida Yasir and Faisal Qureshi
• Packages available for purchase from ARY's 'Sahulat Bazar' platform
Dubai, United Arab Emirates - 17, August 2019: Dubai's Department of Tourism and Commerce Marketing (Dubai Tourism) has announced a partnership with House of ARY, one of the leading South Asian broadcast networks, to further strengthen travel demand to the emirate from Pakistan with the recent launch of the 'Chalo Dubai' campaign (translating into "Let's Go to Dubai"). Reaffirming the Department's ongoing commitment to extend the growth potential of one of its top ten source markets, the campaign aims to provide Pakistani visitors with specially curated, Dubai-centric holiday packages that showcase the city's world-class destination propositions.
The bespoke, four-days-three-nights packages can be accessed as part of the 'Wow Dubai Deals' on ARY's specially designed online travel portal, the Sahulat Bazar. These packages include exciting city tours to a wide variety of attractions and experiences, as well as special interactions with renowned television and film personalities who share close working relationships with the network, including Humayun Saeed, Fahad Mustafa, Nida Yasir and Faisal Qureshi as they join visitors on their trips to discover enriching and compelling reasons to revisit the emirate.
With robust growth in overnight visitors from Pakistan in the first five months of 2019, the campaign aims to further add to the ease of accessibility for tourists visiting Dubai from Karachi, Lahore, Islamabad, Faisalabad, Multan, Sialkot and Quetta. Visitors from these cities can purchase the packages through the online portal and make secure payments through a dedicated gateway and via banking partners.
Aida Al Busaidy, Director of C2C Campaigns and Marketing Management at Dubai Tourism said: "Pakistan is fast emerging as one of the top source markets for Dubai's tourism industry, bringing in more than 205,000 visitors in the first five months of the year. Underpinned by these sustained volumes, the launch of 'Chalo Dubai' further builds on our commitment to enhance holistic experiences for travellers visiting and revisiting the emirate, ensuring they become passionate advocates.
The dynamic campaign serves as an integral component of our ongoing marketing strategy which has the support of our agile and responsive stakeholder ecosystem to collectively evolve the value propositions in line with increasing demand for experiential travel. Our partnership with House of ARY marks a new milestone in this endeavour, with the platform's extensive reach helping to further promote Dubai as the preferred destination of choice for Pakistani visitors. ARY has built a strong reputation as one of the largest broadcasters in Pakistan and we look forward to further strengthening the city's appeal through this project."
The 'WOW Dubai Deals' packages include guided tours to cultural sites and popular attractions across the city, a cruise dinner experience at the Dubai Creek, a traditional desert safari experience, as well as 'meet and greet' opportunities with the celebrities.
Muhammad Iqbal Gandhi, Chairman House of ARY, said: "The Dubai Tourism-ARY partnership is a powerful combination helping to promote tourism to the emirate from Pakistan. With this campaign, our aim is to create a magical experience for our Pakistani tourists – especially for first time visitors. ARY's Sahulat Loyalty Wallet & E-Commerce Sahulat Bazar are considered to be the mainstays of the Group alongside ARY Digital, which caters to over a million customers and witnesses views of over 100 million globally with a base of over 30 million subscribers on our social media platform."
Sahulat Bazar currently operates in Pakistan, the UK and UAE and caters to a vast South Asian community globally.