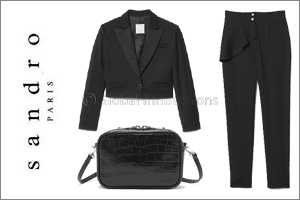 The Power Suit
Dubai, United Arab Emirates - 15, August 2019: The suit has come a long way since the days of being used for formal dress only – and this Fall 19, Sandro has launched its most sought-after collection yet.
With new fabrics and fits introduced, the collection will no doubt surprise and delight shoppers alike. Sandro's stylish new tailored suits take on a fresh approach to the must-have wardrobe staple.
Whether you are looking for something chic in the form of a classic black blazer and trousers or looking to make a bolder statement with leather – Sandro will have you looking your best this season.