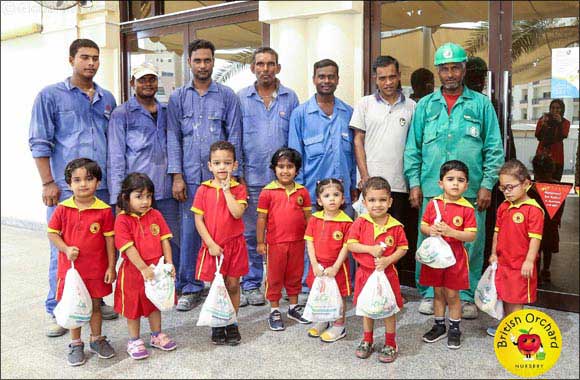 August 8th, 2019; Dubai, UAE: The spirit of sacrifice, generosity and the desire to bring a smile on the faces of the less privileged came to the fore as the young children of British Orchard Nursery put together almost 200 Eid packages for labourers in Dubai.
The packages which were distributed to construction workers included calling cards for international dialling, caps to protect from the sun, hygiene products like shaving creams and deodorants, fruits, dates, water, juices and laban.
Labourers were particularly happy to receive calling cards which gives them a great opportunity to call their families back home on the occasion of Eid al Adha.
"Living away from families on a joyous occasion like Eid can be quite difficult. The Eid gifts were little tokens from the BON children to appreciate the hard work labourers put into their jobs," said Dr Vandana Gandhi, Founder and CEO of British Orchard Nursery, adding, "Educational institutions are more than a place where academics is taught.
There is an equal focus on inculcating empathy, sympathy and consideration for those who are less privileged than us. We aim to teach the children the value of giving in a practical manner. For Eid-al-Adha, we also ensured the curriculum for one week in the summer camp leading up to Eid was centred around Eid activities and moral teachings."
A strong advocate of values-based learning, British Orchard Nursery has involved its children in several activities throughout the year to inculcate a sense of responsibility and compassion towards other human beings. The nursery chain has recently received the CSR Label 2019 award from Dubai Chamber of Commerce, making it the only educational institutions to have received this prestigious certification. The preschool is also recipient of many other CSR ad quality awards.