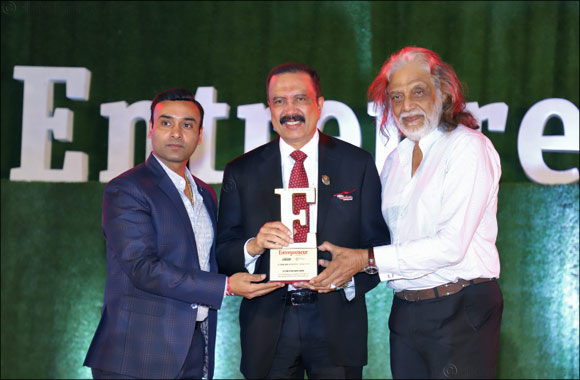 • The prestigious award recognizes Padma Shri Dr. Azad Moopen's three-decades of commitment in making quality healthcare affordable and accessible.
• The ninth edition of the awards celebrated the spirit of entrepreneurship and recognized the finest across industries who are bringing the best to the world.
Dubai, United Arab Emirates - 21 July 2019: The Founder Chairman and Managing Director of Aster DM Healthcare, Dr. Azad Moopen has been honoured with Lifetime Achievement Award at the 9th Entrepreneur India Awards 2019, held as a part of Entrepreneur Annual Conclave 2019 in New Delhi. The event brought together over 500+ attendees celebrating the achievements of entrepreneurs and innovators from different walks of life.
The prestigious accolade is in recognition of Dr. Moopen's valuable contribution and efforts in the field of healthcare. Under his leadership, Aster DM Healthcare in the last 32 years, has become one of the few entities across the globe providing the complete circle of care from primary, secondary, tertiary to quaternary medical care. The journey, that Dr. Moopen started with a single doctor clinic in Dubai in 1987, when healthcare was still in its primitive stages in the region, has played a significant role in shaping the healthcare industry in GCC and India. Today, Aster DM Healthcare has grown into an integrated healthcare conglomerate of over 350 establishments including hospitals, clinics, pharmacies and diagnostic centres spread across nine countries. The Company was also listed in the Indian Stock Market in February 2018.
Guided by the philosophy of providing easy access to quality healthcare at affordable costs, Dr. Moopen has revolutionized healthcare services by creating a model that is accessible to different income groups and masses without compromising the service aspect of the noble medical profession. The journey that Dr. Azad Moopen started with this strong conviction has touched and made significant positive changes in the lives of millions. His belief that healthcare is more than a business, primarily a service dedicated to saving lives and restoring wellness, is an inspiration for all entrepreneurs.
"It is an honor to receive such a prestigious award from Entrepreneur India. I owe this recognition to all the team members of Aster DM Healthcare, without whose unrelenting contribution and support, this wouldn't have been possible.
We are committed to provide quality healthcare at affordable cost and bring the latest advancements in healthcare to India and GCC. With evolving patient needs, it is essential for us to be constantly aware of their requirement and innovate to be able to introduce solutions that can address these needs. The passion and commitment of medical professionals and management team help us to live up to our brand promise- We'll Treat You Well," said Dr. Moopen.
The flagship annual event of Entrepreneur India, the awards aimed to celebrate the spirit of entrepreneurship while aiding entrepreneurs to discover and unleash breakthrough Ideas, Innovations and Insights needed to realize their power to disrupt the social, economic and tech ecosystem.