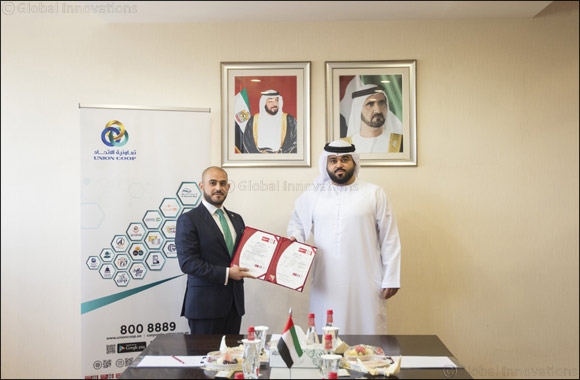 July 17, 2019 - Dubai, UAE:
Union Coop, the largest Consumer Cooperative in the UAE received ISO 22301:2012 certification for International Business continuity standards from 'Bureau Veritas' – Dubai Branch.
The certification was received by H.E. Khalid Humaid Bin Diban Al Falasi, CEO of Union Coop, from Mr. Marwan Aridi, Certification Manager, Bureau Veritas – Dubai, in the presence of Mr. Aiman Othman, IT Director, Union Coop, Mr. Imad Rashid, Acting Happiness and Marketing Director among group of Managers.
Explaining the vitality of this certification, Mr. Aiman Othman said: "Achieving ISO 22301 compliance certifies that Union Coop is committed towards serving the society among which customers, employees and shareholders in case of an event of disruption or incident that can stop its services and business functions. ISO 22301 certificate justifies the fact that Union Coop has recovery strategies in place which is required to restore its business functions and services to its customers within pre-set timelines. Union Coop is keen to adopt the best global practices to maintain the sustainability of its work in all circumstances."
From his side. Mr. Marwan Aridi believes that this certification will benefit Union Coop both internally and externally, as he pointed out: "Union Coop with the certification on International standard in Business Continuity contributes to increasing the confidence of the employees and increasing the confidence of shareholders in the ability of Union Coop to generate continuous returns, and operate smoothly under any unpredictable circumstances as well."