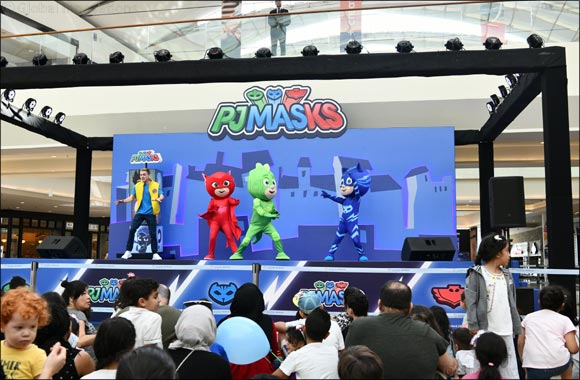 Dubai Festival City Mall transforms its Festival Square to a kid's haven with 40 days filled with exciting free activities for the entire family
Dubai, UAE, 25th June 2019: Introducing the ultimate play fest for little ones, the Dubai Festival City Mall Kids Rock festival brings residents and tourists alike 40 days of fun-filled activities including daily PJ Masks themed stage shows, meet & greets, workshops, book reading sessions by the Jashanmal bookstore, and much more!
Your kids will have a chance to meet their favorite heroic characters for the first time ever in the region including the incredibly fast and amazingly agile team leader, Catboy, the youngest member and master of camouflage, Gekko, who is known for his muscles and ability to climb walls, and last but not least, Owlette, the amazing female member who has the ability to fly thanks to her powerful wings and who is always on the lookout for danger from above with her owl super vision. Families are up for an action-packed adventure with a twist of mystery with PJ Masks this summer.
Join the fun and beat the heat at Dubai Festival City Mall with the Kids Rock Festival with PJ Masks running from 24th June to 12th July 2019.
Activity

Details

Date & Time

PJ Masks Stage Show

Daily free PJ Masks themed stage shows, running 4 times everyday

Date: 24th June – 12th July 2019

Time:

4:00pm – 4:20pm

5:30pm – 5:50pm

7:30pm – 7:50pm

9:00pm – 9:20pm

PJ Masks Meet & Greet

Daily free meet & greets with PJ Masks characters after stage shows

Date: 24th June – 12th July 2019

Time:

4:20pm – 4:40pm

5:50pm – 6:10pm

7:50pm – 8:10pm

9:20pm – 9:40pm

PJ Masks Workshop

Daily free PJ Masks workshops including:

Arts & Crafts Workshop (4+ years old)
Mini Car Racing/Obstacle Course (teenagers)
Lunar Escape Maze
Photo Booth

Date: 24th June – 12th July 2019

Time:

4:00pm – 10:00pm

Read.Eat.Play.Repeat

Weekly book reading sessions with Jashanmal Bookstore open to all kids aged 8 years old and younger, it includes:

Book Reading by the Jashanmal bookstore
Play time at Fabyland
Lunch Time at Eataly

Book reading sessions are free for all children. Play time sessions and lunch time at Eataly package is at AED45 for Kids Club members and AED60 for non-Kids Club members

Date: Every Tuesday from 2nd July – 30th July 2019

Time:

10:00am – 2:00pm