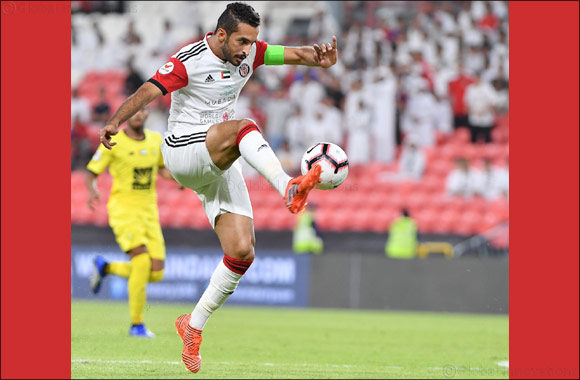 Dubai, United Arab Emirates - 23 June 2019: When the UAE national team begins next month's training camp in Austria to kick off their preparations for the 2022 World Cup qualification, Al Jazira will be well represented by seven first-team players.
Record-breaking striker Ali Mabkhout and promising defender Khalifa Al Hammadi are two of the players included in the 27-man list following their impressive individual displays during the 2018-19 season.
Mabkhout's 20-goal tally saw him finish second in the Arabian Gulf League's scoring charts while Al Hammadi built on his 2017-18 breakthrough season to establish himself as a first-team starter with 25 appearances.
The pair will be joined in Salzburg by their fellow Al Jazira team-mates - Ali Khaseif, Mohamed Al Attas, Salim Rashid, Khalfan Mubarak and Zayed Al Ameri.
Al Jazira's academy has been integral for nurturing and developing their players for many years and with Mabkhout and Al Hammadi, who came through the ranks, being called up to the national team is a testament to the club's coaching philosophy.
Before their dreams became a reality, Mabkhout and Al Hammadi put in the hours on the training pitches under the guidance of the academy coaches and haven't looked back since making their first-team debuts.
With Mabkhout at the peak of his career aged 28 and Al Hammadi showing great promise as a 20-year-old, both stars have credited the academy model for their careers to date.
"Since joining the academy, I have always had the ambition of playing in the highest level," said Mabkhout, who has struck 133 league goals to date since making his debut as an 18-year-old.
"At the same time, I wanted to achieve the goal of playing for Al Jazira's first-team and the UAE national team and am happy to have reached those objectives."
He added: "I have always been grateful to Al Jazira's academy as they develop the technical aspects while also educating players on the importance of mentality and nutrition. With regular coaching and my desire to improve meant that when I was picked for the first-team, I was fully prepared for what to expect as a professional footballer.
"The club also gives opportunities for youngsters to train with first-team stars and this certainly helps them to adapt quickly. With the number of players that have come through in recent years, the club has shown there is a bright future."
With Al Hammadi making his debut as an 18-year-old, his first-team career also saw him join Mabkhout in the UAE squad for January's 2019 AFC Asian Cup.
"I have really developed as a player last season as I established myself in the first-team and represented my country at the Asian Cup which was a proud moment for me," said Al Hammadi.
"It's been a great learning curve so far and I feel the club academy has helped me a lot to what I have achieved today.
"I joined the academy when I was seven-years-old and realised that I had to work very hard if I wanted to reach the top. The academy has a clear pathway in place for those who want to be professionals."
He added: "It wasn't just about football as outside the training, we also had regular schoolwork during the day. This meant we would sometimes have long days from 7am to 8pm but it was a great learning experience.
"We also learnt the importance of nutrition and as a youngster, I found that was a big change but it has helped me be the player that I am today."