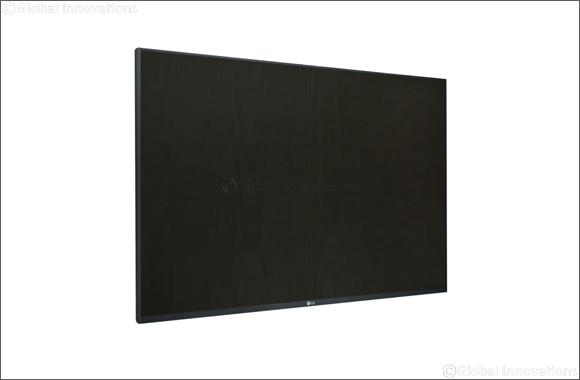 LG LED Connect 2019 MEA will Illustrate the Future of LED Signage
Dubai, United Arab Emirates - 20 June 2019: LG Electronics (LG) will unveil its latest LED display solu-tions for businesses at LG LED Connect 2019 MEA next week. The company will ex-hibit a wide range of its indoor and outdoor LED displays at the event, with superior picture quality and world-class reliability.
A key feature of the event will be the previewing of LG's new 130-inch LED screen (LAAF series), recently showcased at InfoComm 2019 in Orlando, Florida. The LED screen has been designed for easy installation and management, with the potential to replace conference room projectors. The new standard for visual meetings, LG's 130-inch LED screen is powered by HDR10 to enable attendees to engage deeply and work with greater productivity.
For greater clarity, the LED screen also features embedded Surface Sound, with inte-grated speakers and AV connections for smooth business operations. Sound flows through 36 points within the screen's surface to be heard throughout the meeting room with ease. Integrated with LG Signage365Care, the LED screen offers real-time device monitoring and diagnostics for ease-of-use.
For large open spaces, such as airports and malls, LG has introduced its range of Premi-um Fine-Pitch LED Signage, or LAPE. The LAPE series comes in two product types, which differ in the way the power is installed, enabling customers to choose the most suitable product for their given environment. Unlike conventional displays, the LAPE series models are designed with flexible LED Display Module (LDM) technology, sup-porting true concave and convex curvature up to 1,000R.
LG's LAPE series signage features a high refresh rate of 3,840Hz, ensuring smooth playback of content. Whether travelers wish to film their surroundings, or retailers are creating promotional material, they can do so without worrying about black bars appear-ing during video shooting. With detailed color and contrast, the LAPE series can seam-lessly bring content to life in a range of environments.
At LG LED Connect, the company will also display its Transparent OLED display, de-signed to create captivating digital environments. LG's latest technology is designed to meet the demands of premium retail, public and corporate spaces, with its Transparent OLED display offering a wide viewing angle for new forms of immersive advertising. With 38 percent maximum transparency, objects in the background can be seen, whilst the signage sits in front, drawing attention to key aspects of a product.
LG's 0.44mm Even Bezel Video Wall is also set to illustrate how a seamless viewing experience can be created. It comes a higher viewing angle with IPS panel technology to engage viewers and remain visible from a number of perspectives.
For the hospitality sector, LG is presenting a range of digital signage products and solu-tions, including its OLED Wallpaper Hotel TV. Specially customized for hotel integra-tion, the Wallpaper TV makes use of LG's Pro:Centric platform – customizable tool which enables the hosting of applications. Hotels can customize their TVs to promote various products and services to their guests, boosting potential engagement and sales.
With a slim design and the use of Dolby Vision technology, the Wallpaper TV can blend seamlessly into its surroundings, or be used to provide vivid colors and deep black on screen for viewers to enjoy a range of high definition content.