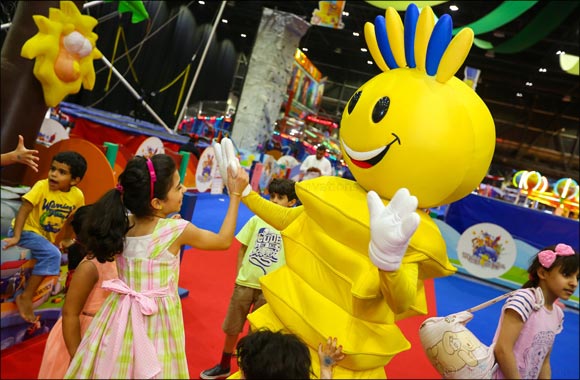 • Free entry to Modhesh World at Dubai World Trade Centre running from 21 June to 17 August 2019
• More than 100 activities, games and attractions on offer at the fun-filled themed zones
• New GAC GS3 up for grabs with Modhesh World
Dubai, United Arab Emirates - 20 June 2019: The region's much awaited edutainment family destination, Modhesh World, kicks off on Friday 21 June at 11AM to offer families and kids endless fun with its themed zones including The Wheels, Arcadium, Little Adventure and Showtime Zones. The official opening of Modhesh World will be attended by the popular radio talk show presenter Kris Fade and his family, so don't miss the chance to meet and greet the radio sensation.
The free-to-enter family-centric hub is organised by Dubai Festivals and Retail Establishment (DFRE) and will run from 21 June until 17 August 2019 at Halls 3-7 of the Dubai World Trade Centre. Modhesh World, which is part of the Dubai Summer Surprises (DSS) offerings, will give families with kids of all ages an unforgettable experience with the numerous activities, attractions, games, workshops, and shows across its diverse themed zones. In addition, and for the first time ever, Gargash Motors & General Trading will be launching the new GAC GS3 for the first time in the Middle East, which can be won through a raffle by spending AED 250 worth of game cards at Modhesh World. Don't miss the chance to win big this weekend, as the winner will be announced during the raffle draw on Sunday 23 June.
Commenting on the opening day of Modhesh World, Ahmed Al Khaja, CEO of Dubai Festivals and Retail Establishment (DFRE) said: "It brings us so much joy to see the success that Modhesh World has had throughout the two decades it's been running in Dubai. The mascot Modhesh is not just a character, but a childhood icon to many in the city and the wider region, and brings back nostalgic memories of the summer days they've spent at Modhesh World with their families and friends. In our 20th year, we bring back this family destination with a packed programme of more than 100 activities and fun-filled events for everyone to enjoy across 58 days of summer."
This year, entry will be free to Modhesh World and visitors can pay as they go. There will also be two packages, one for weekdays, and another for weekends that will give indoor theme park goers access to 6 selected games at Modhesh World.
For those that love adrenaline rush and adventures, The Wheels Zone in halls 6-7 is the perfect destination with all it has to offer from bungee trampoline, ice rink, drift bikes and 4x4 driving tracks.
The Arcadium Zone in Hall 7 is set to offer many interactive viral sensation games like Fruit Ninja and Temple Run and old-school favourites such as Pac-Man and Donkey Kong 3. In addition to virtual reality games the including Cinecoaster 360VR, the multi-dimensional XD cinema system that simulates the most realistic roller coaster movements.
Meanwhile, little ones of seven years and under will have plenty of fun hopping down towering bouncy castles, flying on airborne cars, spinning in enormous teacups and going round on the carousel at Little Adventure Zone in halls 3-4.
When it's time to unwind and enjoy a show or even grab a bite after playtime, Showtime Zone in hall 5 is the place to be! Showtime Zone will offer live entertainment and roaming parades that run several times a day including the live Modhesh and Music School Kids show, as well as many other festivities and colourful roaming parades. Showtime Zone will also be home to culinary food truck concepts available from popular local brands and stalls serving diverse cuisines. In addition, visitors can shop from the many kiosks available for some bargain items and mementoes.