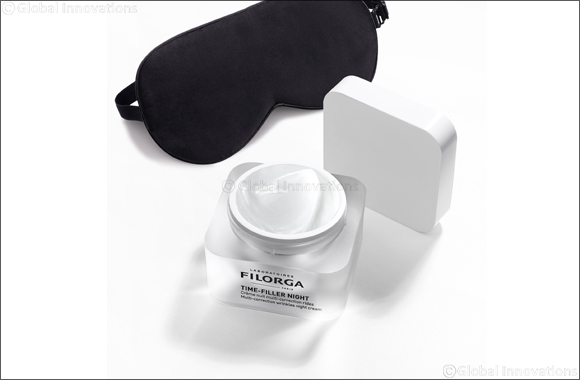 Dubai, United Arab Emirates - 19 June 2019: Wrinkles are more than just a concern, they're an obsession! And it shows: 2 out of 3 women in France buy anti-wrinkle face care products. And there is not just one type of wrinkle but several ways for the dermis to show signs of creasing. So, what's the effective solution? Aesthetic medicine using targeted strategies such as Botox injections, Hyaluronic acid injections, Mesotherapy and Peels. FILORGA took inspiration from this successful strategy to develop its best-selling product TIME-FILLER, a revolutionary multi-wrinkle skincare range that halves the number of wrinkles in just two months!
While night-time is the best youth ally for women, because anti-wrinkle treatments are at the most effective during the night, it can also be a false friend as our pillows can strike back! They can become our No.1 enemy when it comes to young-looking skin. While we're blissfully drifting off to a peaceful night's sleep, they are silently creating a fifth type of wrinkle and gradually puffing up our features. And when we wake up, it's right there on our faces – sleep wrinkles (pillow marks) that take longer to disappear as time goes by and can even become permanent, as well as puffy features, the swelling of the face that happens during the night that is aggravated when the head presses down on the pillow with the body in a lying position.
Because wrinkles are women's No.1 concern, because the night-time is a key opportunity to repair the skin, and because a good night's sleep doesn't necessarily have to mean puffy features in the morning, FILORGA is launching TIME-FILLER NIGHT, the first multi-tactic night care product to take advantage of the time we spend asleep to attack all types of wrinkles and leave women refreshed and confident in the morning. Put morning creases behind you with TIME-FILLER NIGHT, for new wake-up confidence #nofilter!
Intensive Multi-Wrinkle Correction:
FILORGA once again calls on its signature TIME-FILLER core formula, inspired by aesthetic medicine techniques, and now in a night-time version for additional and optimised efficacy on the four types of wrinkles:
A Botox-like effect on contraction wrinkle, a filler-like effect on deep wrinkles, a peel-like effect on surface wrinkles and a meso-like effect on dry skin wrinkles.
Results are relaxed muscles, filled wrinkles, plumper, exfoliated and hydrated skin All types of wrinkles are reduced, night after night, and it shows!
Action to reduce signs of fatigue in the morning – specially for pillow marks + puffy features
Innovation by FILORGA: as ever, a pioneer in the treatment of the signs of ageing, FILORGA has now integrated EXPRESS-RECOVER complex for the first time in a skincare product. The complex is a combination of specialist active ingredients with a strong smoothing action.
-Effective against pillow marks: TIME-FILLER NIGHT contains a powerful elastin booster of botanical origin that enhances the skin's "shape memory" and increases the "bounce back" effect in the tissue, which limits the appearance of sleep wrinkles. This action is unparalleled in a night care product!
-Effective against puffy features: a passion fruit extract, rich in flavonoids that protects against oxidative stress, stimulates lymph drainage and boosts the skin's microcirculation to eliminate toxins and decongest the skin. Unrivalled night-time detox!
Results include more elastic and detoxified skin, a fresher and more luminous complexion in the morning … no more dreading the mirror!
FILORGA's TIME-FILLER NIGHT is priced at AED 400 and available for purchase at leading pharmacies including Bin Sina Pharmacies, Boots Pharmacies, Health First Pharmacies and Community Pharmacies.