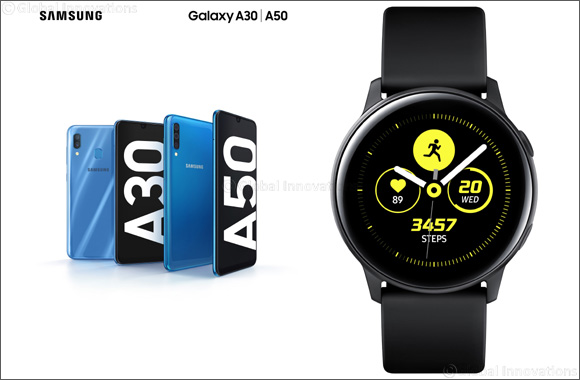 Dubai, United Arab Emirates - 16 June 2019: Father's Day is around the corner – it's time to make sure your own dad gets the recognition he deserves. Of course, you're not alone in wanting to celebrate how awesome your dad has been throughout your life. In other words, don't be afraid to go all out this year. In fact, if you're looking to get your dad a particularly special Father's Day gift, you're in luck.
Thanks to the digital age, there's always a new gadget or gizmo that everyone wants to own. From smartphones to video games, giving your dad a tech-based gift is a great idea. Detailed below are some of the top gifts you'll want to be in the know about.
1. Enjoy premium smartphone experiences with S10
Celebrating a decade since the launch of the first Galaxy S, Samsung has launched a new line of premium smartphones: Galaxy S10. With three unique devices, Galaxy S10e, Galaxy S10 and Galaxy S10+, the Galaxy S10 line is engineered to meet the distinct needs of today's smartphone market, so consumers can do more of what they love. Each device delivers a next-generation experience in the categories consumers care about most: groundbreaking innovations in display, camera and performance.
2. Find style that won't slow you down
Samsung Galaxy Watch features a long-lasting battery life, wellness capabilities and a timeless and personalised design. The fitness-focused smartwatch will help your dad accomplish more with advanced stress and sleep monitoring capabilities, as well as offer a more robust line up of style options including three colors, Silver, Midnight Black and Rose Gold, and customisable watch band colours.
3. Listen to the sound of love
Galaxy Buds work right out of the box, connecting with your Galaxy devices in an instant via Bluetooth to get your dad up to the beat and well on his way. 'Galaxy buds deliver incredibly rich sound. And with next generation dual microphone technology, it makes background noise a thing of the past. Galaxy Buds recognize your surroundings, switching between inner and outer mics to keep unnecessary noise out of your conversation as well as letting you pair and switch seamlessly between your Galaxy devices so you don't miss out on any of the action. Galaxy Buds feature a newly refined design that makes them so compact they fit in comfortably with the rest of your belongings. They also come in black, white and yellow options that would blend right in to your dad's lifestyle.
4. Color your life with the QLED 8K TV
Encompassing an array of cutting edge illumination technology with a billion shades of color, the Samsung QLED 8K range is the perfect gift to light up the life of your dad. QLED 8K breaks new ground for Samsung's ultra-premium TV and home entertainment offering, delivering beautiful design and supported with the most advanced picture quality in its portfolio. With Real 8K resolution features embedded with Samsung's proprietary 8K AI Upscaling technology, the TV is available in 98-inch, 82-inch and 75-inch and 65-inch screen sizes.