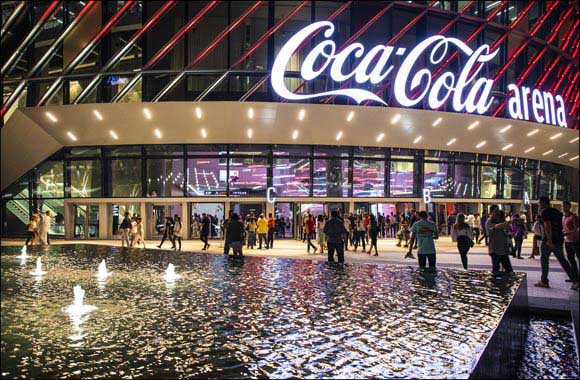 • Coca-Cola Arena vibrated with laughter as the region's first multipurpose indoor arena hosted global superstar comedian Russell Peters
• Fans hail new venue as region comes together for a night of live entertainment
• Coca-Cola Arena now on countdown to its second show, Maroon 5 on June 14th
Dubai, United Arab Emirates - 08 June 2019: The first visitors to Coca-Cola Arena have hailed Dubai's new indoor arena as a brilliant addition to the city as the arena staged its first ever live show on Thursday night.
Thousands of excited spectators witnessed a carnival like atmosphere around City Walk as fans descended on Dubai's newest entertainment hub before witnessing global comedic superstar Russell Peters be the first performer to take to Coca-Cola Arena's stage.
The opening of Coca-Cola Arena is an historic occasion for Dubai and the region as the venue becomes the only indoor arena of its kind between Istanbul and Singapore and will play host to the world's greatest performers and entertainers.
Spirits were high as people entered the Meraas owned Coca-Cola Arena and with the building's exterior 4,600 LED's lit up in red and the incredible venue sign beaming bright as fans arrived. Dubai's home of live entertainment suddenly became a reality and a new epi-centre of live experiences in the region was born.
An audience of all ages and cultures bonded together as they shared the sentiments of the Canadian born acts' jokes and anecdotes, with Coca-Cola Arena's state-of-the-art seating bowl lending itself to the brilliant atmosphere generated.
Sally Hinch said 'Finally! Dubai has been calling out for an arena like this for so long! It was incredible to be here for the first ever gig… I'll be back!'
Russell Peters rounded off his laugh out loud performance at Coca-Cola Arena by thanking his audience for being part of history making as they witnessed the first ever performance at the venue.
After coming off stage AEG Ogden's CEO of Coca-Cola Arena Guy Ngata presented the global comedy superstar with a commemorative plaque marking his historic gig as well as a special edition Coca-Cola Arena bottle.
Expectations were met on both the entertainment and location; the crowd were amazed with the look and feel of the beautifully designed Coca-Cola Arena which is the first mega-venue to be located in a city location in Dubai.
Yousef Mohamad said 'Wow – Coca-Cola Arena is brilliant. And to have it in the middle of town is perfect. I've had a fantastic time and can't wait for the next gig.'
With multiple eateries and shopping outlets within a short walking distance from Coca-Cola Arena inside Meraas' City Walk destination, many were enjoying the buzz of the outside atmosphere before and after an evening of belly laughs.
'Coca-Cola Arena is at the heart of a great night out,' said Michael D'Souza. I've really enjoyed my experience and I can't wait to see who else will be performing here in the years to come.'
Coca-Cola Arena now turns its attention to Thursday 14th June as Maroon 5 bring their Red Pill Blues Tour to Dubai. The sell-out show will be the first ever live concert at Coca-Cola Arena and will see Maroon 5 play in Dubai for the first time since 2011.