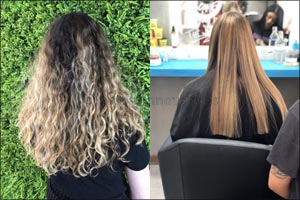 Premier JLT salon, That Hair Tho (THT) offer top treatments for your tresses with a 25% discount until the end of August on their Amazon Coconut Keratin Hair Treatment
Dubai, United Arab Emirates - May 28, 2019: Are you dreaming of a frizz-free summer? If your locks are currently fighting the frizz and you are looking for healthy locks full of shine, then look no further as JLT based hair salon THT launch the super conditioning Amazon Coconut Keratin Hair Treatment.
Smooth hair days are definitely here to stay with this smoothing hair system that ensures hair stays fully manageable in the UAE's soaring summer temperatures. Better still, the treatment also cuts drying time in half, we are sold!
So, whether you are crazy busy and a little time poor to spend hours on your hair at home, or you want picture perfect hair or you simply just want easy to manage, low maintenance hair days, the Amazon Coconut Keratin treatment is the treatment you need to bring back the ultimate in hair health and luster.
Enriched with Organic Coconut Oil, stem cells (apple extract), and other natural ingredients, the Coconut Oil Smoothing Treatment is processed in a unique way to promote smooth, shiny and manageable hair for up to 5 months. Infusing deep into the cortex of the hair, the treatment offers maximum straightening and is thoroughly effective, even on very damaged and curly hair.
The treatment is priced at AED 1,000 depending on hair length. Until 31st August, you can enjoy the treatment with a 25% discount with prices starting from AED 750.
Let THT become your new go-to for the best and most ethical beauty treatments available in the city. In an industry that relies on classic beauty trends, THT are here to shake things up and are a team of disruptors ready to help you become the best version of yourself! Championing equality, THT is home to women and girls of all age groups and their purpose goes much deeper than great hair and nails and everything else that is skin deep.