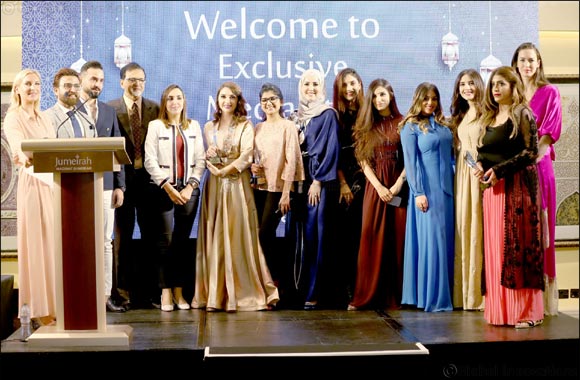 PAN Emirates commits to donate 1% of total sales to SENSES Residential and Day Care for Special Needs during the holy month
Dubai, United Arab Emirates - May 27, 2019: In keeping with their belief in giving back to the community through various initiatives throughout the year, PAN Emirates Home Furnishings, the leading home-grown indoor, patio and outdoor furniture brand in the region, has announced that it will contribute 1% of its total sales during the month of Ramadan to SENSES Residential and Day Care Center for Special Needs, a non-profit organization, which is a residential and daycare facility for children with special needs in the UAE.
This initiative from PAN Emirates Home Furnishings is the third consecutive one. The initiative in 2017 turned out to be a huge success with the total contribution of the 1% of the sales coming up to AED 245,000 and in 2018 turned out to AED 278,000 and this year the aim to donate more. The home-grown brand is looking to contribute a larger amount with the support of customers. This year the noble cause of food distribution in the labor camps has been extensive, as well more than 15000 food packs have been distributed.
The initiative was highlighted in the presence of mainstream media and influencers at the Madinat Jumeirah while offering an exclusive media iftar by PAN Emirates. The event also showcased and honored media personalities who came forward to support the cause and helped PAN Emirates generate awareness about the 1% donation to help the ones in need.
PAN Emirates also launched their latest website to provide a comfortable online shopping experience to customers. The special features and latest developments on the website were briefed and showcased to the media and even an exclusive discount was given to them for their followers.
In order to provide a comfortable online shopping experience to customers, PAN Emirates has launched a brand-new website that offers some cool features.
With more than 10,000 products, the website has been enhanced to be faster and more user friendly. Customers will be able to see recommended products, based on their choices, and gain inspiration for their décor. The website is also available in Arabic. Customers will be able to chat live with the PAN Emirates customer service for any assistance they might require.
The website is also mobile-friendly, so you can shop anywhere, anytime. And with an easy and secure checkout process, shopping for your home has become way more convenient. Customers can enjoy an exclusive online discount of 10%, on the top of ongoing 30-70% off from May 23rd to 25th, 2019.
Theannouncement from PAN Emirates Home Furnishings comes as part of their Ramadan campaign #RekindleRamadanand its enduring commitment towards the welfare of thecommunity in the month of Ramadan.
Commenting about the announcement Mr.Mohammed Katawalla, Group Finance Director, at PAN Emirates Home Furnishingssaid: "We are glad to be contributing 1% for the welfare of SENSES Residential and daycare for special needs and we hope to continue supporting them in the coming years. We are glad that with this drive, we have generated a lot of awareness and have gained great support from our customers."
Hridesh Methwani, Marketing Head, at PAN Emirates Home Furnishings commented, 'We understand how challenging the lodging, boarding, education and medical aid for all the kids can get. We are so glad that we are able to do our bit during the holy month of Ramadan for such a humane cause and support an institution like SENSES.'
Ms. Nadia Al Sayegh, Owner of SENSES Residential and Day Care for Special Needs said,"We would like tothank PAN Emirates for supporting us. This drive has generated a lot of awareness about our cause and has motivated more people to volunteer. The kind encouragement from PAN Emirates has helped us a lot, and we deeply appreciate it."
SENSESResidential and Day Care for Special Needs is a non-profit organization operating for the last 15 years, providing a home with round-the-clock care for 138 children of different ages. While 72 children are resident in the center, 66 attend the day care. In addition to special therapies and educational programmes, SENSES focuses on sensory development, physio therapy, medical aid, food, cleanliness, and many activities that help children develop new skills and improve their abilities.
During the holy month of Ramadan, shoppers can enjoy discounts of 30 – 70 per cent, from an extensive range of including Ultra-modern, Traditional, Classic, Rustic, Country, and Victorian themes that are chosen to suit the needs and taste of the customers. PAN Emirates Home Furnishings imports their products from countries like Turkey, Egypt, USA, Vietnam, Taiwan, Malaysia, China, Italy, Germany, and India, bringing the best quality from around the world to the region.