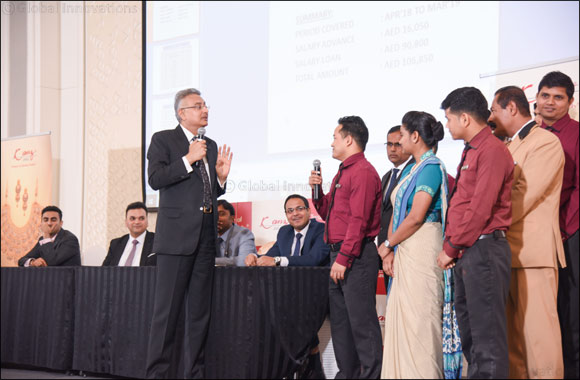 Dubai, United Arab Emirates - May 23, 2019: Kanz Jewels recently recognized and honored their staff who have provided them with outstanding service in the year 2018. During the recently concluded staff conference held in the holy month of Ramadan, at Hyatt Regency, Deira, Dubai, the top performers were provided with outstanding performance certificates in addition to cash rewards. During the conference, time was allotted to recognize the efforts of all team members who have demonstrated the commitment to excellence and who have gone above and beyond their requirements in fulfilling the terms of their responsibilities.
The certificates and rewards were presented by Mr. Anil Dhanak, Managing Director in the presence of various dignitaries and all employees.
According to Mr.Anidesh George, who won the leadership award, "I have been an integral part of Kanz Jewels for the past 10 years. I feel privilege to win this award. It is a great honor to be recognized by your employer. It is a well known fact that honors and recognitions add more responsibility to what we do. They motivate us to become more proactive and strengthen our relationship with the organisation. I feel highly honored and I will strive to exceed the expectations that my bosses have on me."
According to Mr. SAAD MOHAMED, who was recognized for his efforts in sales,"The success of Kanz Jewels is the keen sense of professionalism and stringent guidelines that our MD follows. He is very careful when it comes to selecting the team members. There is a well laid out criteria which focuses on the ability to meet the pressures and challenges of working beyond expectations across the markets. I am extremely happy that my efforts have been recognized".
According to Mr. Anil Dhanak, 'Employees are our strength.
We place great importance in recognizing as well as honoring our outstanding employees. It is my duty to appreciate their efforts which play a crucial role in helping us to maintain the leadership position in this highly competitive market. By rewarding top performers, we acknowledge their support and recognise their contributions."
Established in 1991 by the dynamic Mr. Anil Dhanak, Kanz Jewels is one of the oldest jewelers in the Deira Gold Souk. A strong industry knowledge and determination have played crucial roles in Kanz Jewels expanding its operations to multiple showrooms over the past few years.