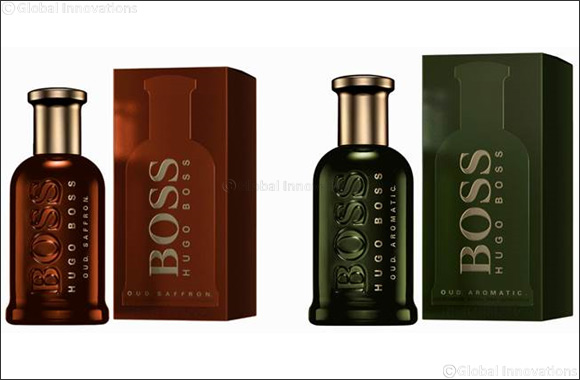 Dubai, United Arab Emirates - May 21, 2019: Powerfully opulent. Symbolic. Authoritative. Introducing BOSS BOTTLED Oud Aromatic and Saffron, two new scents exclusive to the Middle East. Crafted by master perfumer Annick Menardo, the fragrances are a true blend of craftsmanship, both using natural Oud; the rich, mysterious and highly prized Middle Eastern ingredient often described as 'black gold'.
THE MAN OF TODAY
A combination between heritage and modernity. True to his roots but looking towards his future. The Man of Today cherishes his traditions but embraces the gifts of technology and the modern world. Well-connected within his social circle, he wants to find the perfect balance between modernity and tradition, technology and craftsmanship, real and virtual life.
THE CAMPAIGN
The new BOSS BOTTLED Oud Aromatic and Saffron are revealed in a video directed by Thibault Jouvent. The preciously crafted essences are mirrored in the creation of a unique artwork by calligraphist Vincent Abadie Hafez, who re-creates the BOSS BOTTLED Man Of Today manifesto in Arabic.

NEW – BOSS BOTTLED OUD AROMATIC
BOSS BOTTLED Oud Aromatic is a masculine and strong interpretation of the luxurious BOSS BOTTLED Oud fragrance. Luscious notes of orange blossom balance for the resinous and woody myrrh, coming together with soft and balsamic notes of white honey. Incense provides the scent with an exotic allure, while oud creates the dark, luxurious character that lingers. Housed in a wood-green flacon designed to embody the charisma of the person who wears it, a gold metal topper brings on a sophisticated final touch.
NEW – BOSS BOTTLED OUD SAFFRON
BOSS BOTTLED Oud Saffron is a rich, warm fragrance that offers a spicy take on BOSS BOTTLED Oud. With a spicy-floral accord of saffron and rose, it unfolds harmoniously on the Man of Today's skin, a gentle reminder to stand his ground with integrity. Combined with silky suede notes and opulent oud, the dry down offers a comforting yet firm embrace. The bottle's deep red shines together with the elegant gold metal topper.
BOSS BOTTLED OUD
Introduced in 2015, BOSS BOTTLED Oud is a distinctive and assertive male fragrance. The epitome of modern masculinity, the scent builds on the success of the classic and much-loved BOSS Bottled fragrance. Refreshing top notes of citrus and apple cut through the spicy-floral heart notes of clove and rockrose, as the warm and musky oud and sandalwood at the base contribute to the scent's rounded, rich harmony.