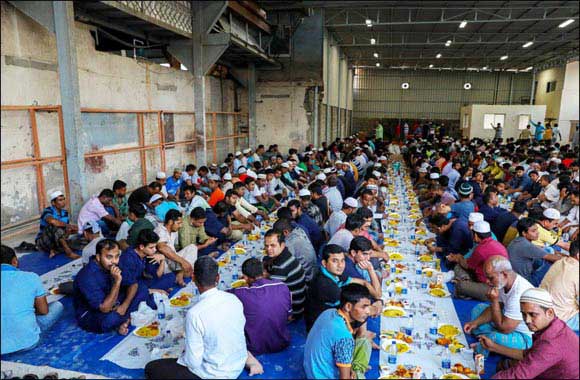 May 16th, 2019; Dubai, UAE: True to the spirit of Ramadan, the UAE's largest diversified conglomerate Danube Group is giving free iftar meals to 100,000 workers in labour camps across different locations in UAE from last 14 years.
The yearly initiative has been a huge success among the blue-collar workers, whose hard work often goes unnoticed, despite their diligent performance of duties while adhering to religious obligations. Additionally to fulfill one of the five pillars of Islam the group offers an all-expense paid trip to a few lucky workers selected via lucky draw for Hajj and Umrah every year.
Mr Rizwan Sajan, Founder and Chairman Danube Group said:" This is one of many steps we take to recognize the unstinted services of the underprivileged labourers. We at Danube make sure food reaches in safe and hygienic condition to all who are coming for the iftars at different locations across GCC. Also, our team keeps a track on change of the menu on regular basis to cater to the taste buds of various nationalities."
He further added:" We have been doing this every Ramadan for the last 13 years. The number of people coming is only increasing year by year. This initiative is in keeping with the spirit of the holy month of Ramadan."
As part of the Danube Group's Corporate Social Responsibility (CSR) drive, the Danube Welfare Center was set up in November 2012, in order to make substantial contributions to our society as well as to bring about a positive transformation in the lives of many workers in Dubai.
The Danube Welfare Center is a non-profit social organization licensed by the UAE's Community Development Authority, offering a plethora of free training courses to help unskilled workers improve their language skills and further develop their careers.
The centre has done some tremendous work around many areas such as –
Educating taxi drivers - As Dubai is the sixth most visited city on earth as per a recent report, the need for taxi drivers to speak English is especially important. Taxi drivers don't merely drive tourists to the hotel, they are the first interaction people have with the country, offer suggestions on places to see and restaurants to eat at, and so much more.

Last year, a total of 530 drivers and supervisors of Dubai taxi were trained specially in the field of happiness, team building, stress management, road rage, professional etiquettes and so on. In the year 2019, we have designed a unique module which includes important topics like Tolerance as HH Sheikh Mohammed bin Rashid Al Maktoum has declared this year as 'Year of Tolerance'; Problem solving, Train the trainer and the existing topics like Happiness, Team Building, Stress management and so on. During these weekly sessions we also conduct different yoga sessions and laughter therapy's which help in stress management. For the year of 2019, a total of 800 plus drivers, staff and top level management will be targeted.
Women Empowerment In the year 2018, Danube Welfare Center continued its journey towards empowering women especially the less fortunate ones from grass root level. Danube Welfare Center commenced the first ever ladies Education institute for blue collared ladies in New West Camp JAFZA. A total of 65 ladies regularly attend classes to improve their English speaking and writing skills, where also their personality is pruned and soft skills are enhanced. Recently we also inaugurated the computer class for the ladies, which has given them an opportunity to learn basic computer skills which will help them get a better job and lifestyle.
Women Health: The center focuses on women health by providing regular check-ups completely free of cost at the camp. The check-ups include – Dental, Breast Cancer, Cervical Cancer, the pap smears checkups etc
Blue Collared education and Healthy lifestyle: Along with quality education provided for men at our JAFZA center, they also provide various type of Medical and Dental camps every month at different venues of Danube Welfare Center. Special camps like Diabetes, orthopedic checks, and general check-ups are been done for the male students at different centers; absolutely free of cost.
Awareness programs: The center keeps conducting awareness programs for the blue collared employees at men and women's camp. To name a few of them : Energy and health talk, time management talk, Healthy lifestyle talk and so on.