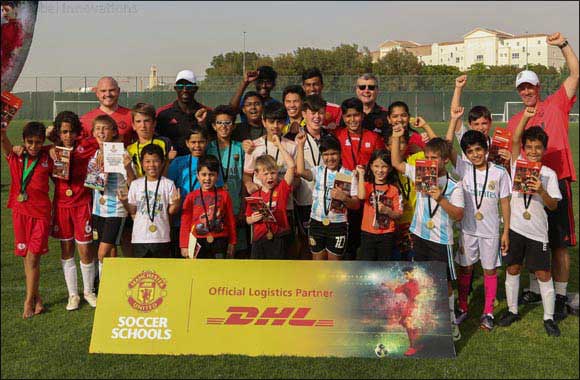 Kids in the UAE enjoyed a day of coaching from Manchester United Soccer Schools, along with football icons Denis Irwin and Dwight Yorke
Dubai, 30 April 2019: DHL Express, the world's leading logistics provider, joined forces with Manchester United Soccer Schools (MUSS) to conduct a full day of training in the UAE. The program is part of DHL's global MUSS Program to encourage children to learn and play football through the Manchester United story, youth culture and philosophy.
Around thirty kids between 8 to 15 years of age were able to train with two Manchester United coaches and football legends Denis Irwin and Dwight Yorke. The day was filled with fun activities and friendly matches and concluded with a medal ceremony and certificate presentation ceremony.
MUSS is an age appropriate program of practical and theoretical activities that provides players with a platform to practice, achieve success and play football in a fun and challenging way.
Geoff Walsh, UAE Country Manager for DHL Express, said: "In partnership with MUSS, we are delighted to offer children the chance to realise their ambition of playing competitive football. This initiative is part of our global corporate social responsibility and wider commitment to encourage young children to pursue sports. It also strengthens our role as a leading logistics provider that is committed to giving back to society through collaboration with like-minded organisations."
DHL's partnership with Manchester United brings together two globally recognized brands and also allows DHL to bring the Manchester United brand into core business areas and promote DHL's growth in every market, where the Manchester United following is very strong.

DHL Express has been driving innovation through various initiatives across the globe and in the Middle East by leveraging the latest innovative technologies to deliver more efficient customer benefits through an enhanced shipping experience and improved access to information.