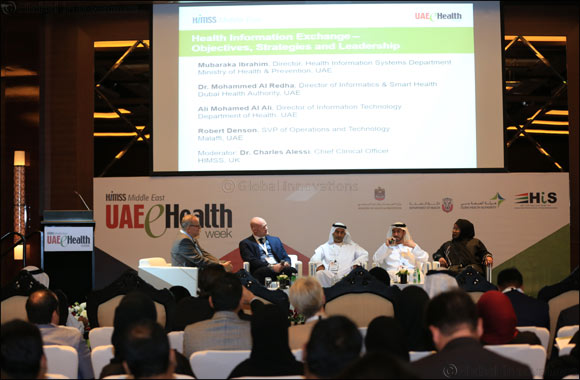 Dubai, UAE, March 25, 2019: The best in healthcare information and technology in both the UAE and the world were celebrated and discussed extensively at the 4th HIMSS Middle East UAE eHealth Week 2019 Conference and Exhibition. The 2019 edition of e-Health Week is the ninth event hosted by HIMSS in Dubai and was held under the patronage of the Ministry of Health and Prevention (MOHAP), the Department of Health, the Dubai Health Authority (DHA) and the Emirates Health Informatics Society and supported by the Abu Dhabi Health Services Company (SEHA).
During the Opening Address HIMSS recognized 12 Dubai Health Authority hospital facilities, as HIMSS Analytics Electronic Medical Record Adoption Model (EMRAM) or Outpatient Electronic Medical Record Adoption Model (O-EMRAM) Stage 6 achievers. The EMRAM – developed by HIMSS Analytics in 2005 – has eight stages (0 – 7) that measure a hospital's implementation and utilization of information technology applications. Reaching Stage 6 is a result of focus, good direction, a steadfast commitment from leadership and ranks these facilities as some of the most digitally mature hospitals worldwide on the global EMRAM and O-EMRAM scales.
The focus of the conference sessions this year was on the latest developments in the digital transformation of the UAE healthcare systems and saw a number of senior government officials and healthcare experts discussing leadership, change management strategies, workforce development, clinicians 'engagement and real-world case studies in the use of Artificial Intelligence and blockchain technologies.
A key highlight of the conference was the UAE CxO Forum were officials and industry experts delved into the Future of Healthcare IT.
Dr. Mohammed Al Redha, Director of the Executive O¬ffice For Organizational Transformation, Dubai Health Authority (DHA), said, "If we are going to continue leading in the age of digital transformation, we have to understand the landscape and keep ahead of trends. As patients are shaping the market, we as regulators always need to be two steps ahead and develop a comprehensive collaborative schedule that gives us foresight".
Investing time, money and resources into healthcare technologies ensures that hospitals, clinics and healthcare providers in the region are able to build the proper infrastructure to support long-term digitalization. "The healthcare funding revolution has developed tremendously over the past 10 years, moving towards efficient cost utilization" said Saleh Al Hashimi, Director of Health Funding, DHA. "Technology and precision medicine will be crucial in the efficient use of resources, allowing us to move towards health prevention and detection instead of treatment" he continued. "Moreover, we will be able to use data and analytics from these technologies to plan better at the payer level".
Sean Roberts, VP for the HIMSS EMEA region, added: "It is a privilege for HIMSS Middle East to partner with world class organisations from across the GCC to successfully improve patient outcomes through the use of information and technology. We are pleased with the participation and beneficial outcome of this year's conference and will continue to join forces with our healthcare providers and organizations such as MOHAP, DHA, DoH, and SEHA, to make our shared vision of healthcare excellence through technology come true."
The healthcare market in the UAE is expected to grow by over 8.5% between 2018 to 2023, so demand for new facilities and technologies is higher than ever before ; local authorities recognize and address the need for providing healthcare that is in line with the region's Vision 2030 and its pursuit of healthcare excellence through technology and national eHealth projects.
List of Award Recipients at UAE eHealth Week 2019:
HIMSS Electronic Medical Record Adoption Model (EMRAM) / Outpatient EMRAM Award

EMRAM Stage 6

• DHA-Latifa Women and Children's Hospital
• DHA-Hatta Hospital

O-EMRAM Stage 6

• DHA-Dubai Hospital - Outpatient Department
• DHA-Rashid Hospital - Outpatient Department
• DHA-Latifa Women and Children Hospital - Outpatient Department
• DHA-Hatta Hospital - Outpatient Department
• DHA- Dubai Diabetes Center
• DHA-Dubai Gynaecology & Fertility Center
• DHA-Dubai Dermatology Center
• DHA-Dubai Physiotherapy & Rehabilitation Center
• DHA-Dubai Thalassemia Center
• DHA-Dubai Airport Medical Center