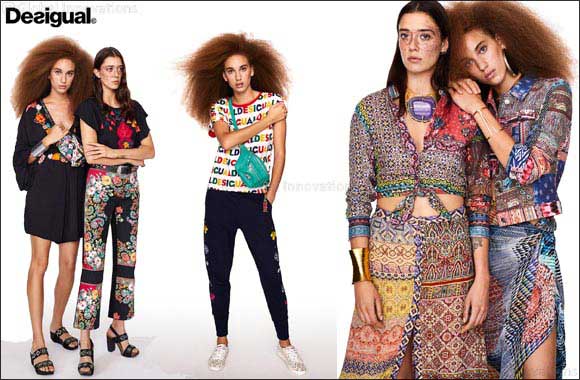 In Our DNA: Living in the Stairwell
Dubai, UAE, March 16, 2019:
1983
Thomas Meyer, the brand's twentysomething Swiss founder, had two second-hand clothes shops in Barcelona. Some stocks of second-hand jeans that weren't selling as quickly as they should gave him the idea for a new garment: a jacket created from scraps of jeans, with brass buttons and leather appliqués at the cuffs. That jacket quickly became a must-have garment, using upcycling as a starting point for a new design, and capturing some of the key concepts of what would go on to become the language of Desigual. Techniques such as patchwork and layering different fabrics were used in this first garment. In a second version of the jacket, after obtaining a licence from Disney®, printed images of characters such as Mickey Mouse and Donald Duck were incorporated.
1984
The jacket was a sales success and we needed a brand to identify us. Based on an idea by Isabel Coixet, we chose "Desigual" as the brand's name, together with a slogan that set out its definition: "it's not the same." From our earliest days, we have attempted to set ourselves apart from the others and the adjective 'Desigual' expresses the characteristics of our garments perfectly. Desigual was created with extremely limited resources. However, scarcity, especially in our case, heightens ingenuity. In one of our first offices, we made our work tables from the doors of the various rooms, balanced on trestles. We didn't have any money, but we did have imagination. Creativity continues to be a key element throughout all of our collections and in what we do.
IN OUR DNA
The initial idea of the denim jacket made way for a collection of garments, all sharing the concept of the denim patch: skirts, miniskirts, waistcoats and boots. We launched the "Girados" trousers, which were characterized by having the fly at the back and the pockets at the front. The "Girados" were a huge success with tourists at the time.
1985
The year began with our participation in Barcelona's Naútico fashion show, where we launched our first collection of printed shirts. We recruited our first sales rep for the Levante region. In September we took part in Madrid's Ibermoda and Intermoda fashion shows, where we put on our first catwalk show for the Spring/ Summer 1986 collection. This collection was rich in prints and colours; a precursor to the joyous vitality that has always characterised our work.
1986
On 20 July, we opened our first store in the port of Ibiza, designed by Tonet Sunyer. The logo, designed by Peret, was a pictorial depiction of a couple (male and female) that has accompanied us throughout our history and was initially featured on the store's bags. Desigual continued to grow and become more organised. We employed 40 people and added more workshops in order to keep up with growing demand. Evidence of this growth came in the form of the opening, on 20 December, of a second shop; this time in Barcelona, in one of the city's most iconic shopping centres: Boulevard Rosa.
1987
We opened new offices and a warehouse on Barcelona's street Erasmo de Janer. It was this initiative that signalled the end of Desigual's temporary status: finally, we had headquarters to represent us.
1988
The drop in sales and lack of planning led to a financial bottleneck. Against all our wishes, we found ourselves having to cease payments. That difficult situation also presented us with an opportunity to re-think Desigual and to put its future plans back on track.
OUR INFANCY: DEVELOPMENT WITHIN THE NATIONAL MARKET
1989 & 1990
We began our journey through the wilderness in search of recovery. We moved our offices and our wholesale warehouse to La Ronda de Sant Pere in Barcelona. We faced a dilemma: disappear or put ourselves back together. We chose the latter and Desigual launched its collection, Styled for relax.
1991
We began our recovery. The t collection became a great sales success. This collection included Thomas Meyer's first prints, which would go on to characterise Desigual in the future. The best story of that year was the publicity campaign "Jamás visto" ("Never seen before") using phone boxes. In order to reduce printing costs, the adverts included real T-shirts that we customized individually. We led the way by including real products in a campaign, something that did not become widespread until several years later. We reorganised Desigual's sales structure and our financial situation improved.
1992
We reassessed the focus of our business and, following the closure of the store at Barcelona's Boulevard Rosa, we concentrated our energy on developing sales in the multi-brand channel. Our presence at the Seville Expo increased our visibility and we began to promote Desigual's values. Our colourful, relaxed collections continued to attract a following.
OUR INFANCY
1992
Barcelona's place on the tourist world map was cemented with the hosting of the Olympic Games.Thomas Meyer and Manel Adell met: they crossed the Atlantic in a sailing boat along with eleven other people. They struck up a friendship while on helm duty which, ten years later, would lead to Manel joining the company.
1993 - 1995
Desigual was consolidated and experienced a significant increase in sales in the Spanish market. We took our first steps into the area of exports - specifically in France and Portugal - which caused us numerous problems. However, we also learned a lot from it. We structured our production through suppliers in Mataró and Igualada, leading to an improvement in quality. We also launched collections of accessories and footwear, and expanded our women's clothing line. These two initiatives coincided with the computerisation of our company: we began to phase out typewriters. 1995 saw a good summer (especially with regard to the catalogue that we made in Cuba).
1996
In January, we moved our offices from Ronda de Sant Pere to 49 Bruc, also in Barcelona. As planned, we opened three stores in May, in Salou, Lloret de Mar and Platja d'Aro (on 3, 18 and 31 May respectively). We called these three stores, which were opened within a very short space of time, 'coconut' stores: coconut mats on the floor, coconuts as decoration and coconut drinks in the afternoon. They were only open during the Spring/ Summer season.
OUR INFANCY
1997
Desigual took part in the Gaudí fashion show again. New designers were taken on and we began to develop a design team that was appropriate to Desigual's size and objectives.
1998
We launched the website Desigual 1.0. We wanted to promote our collections based on the products themselves and we developed the label/catalogue concept. We opened a store in Triangle, possibly the most central of all of Barcelona's shopping centres, in Plaça de Catalunya.
1999-2001
Over the course of these two years, we became aware of how we had consolidated our relationship with our clients. Our greatest concern during this period was constant improvement: meeting deadlines, improving the quality of our products, etc.
AFTER A SHORT 'ADOLESCENCE', WE BECAME MORE PROFESSIONAL, EXPERIENCED GROWTH AND ENTERED THE WORLD OF GLOBAL RETAIL.
2002
In that year, Desigual achieved a record annual growth of 67%. We designed the T-shirt War is not the answer, which would arrive in shops a year later, coinciding with the demonstration in which 1,300,000 people gathered in Barcelona to protest against the Iraq war. We like remembering that the T-shirt was designed some time before the popular protest. We opened the doors of our first outlet outside of Barcelona, in Valladolid, which worked fantastically right from the start. At the beginning of December, we signed a contract for the store on Barcelona's Argenteria street, which opened three weeks later. It was our first significant investment within the context of our retail strategy. The premises, 400 m2 in size, had previously housed a Barcelona music venue with a great history: Zeleste. Martí Guixé designed and came up with the concept for the space.
2003
It was with Martí Guixé that we developed our Paint Party strategy, decorating our stores using the creativity of our friends, colleagues and clients who, armed with paint, paintbrushes and rollers, were able to express themselves on the walls of what was soon to be a store that was open to the public. Paint Party combined spontaneity and energy; joy and colour. Our warehouse, which was still very basic - no more than piled up cardboard boxes - had become too small for us and we made an initial investment that allowed us to double its capacity. Desigual continued to attract followers all over the world.
MORE PROFESSIONAL, GROWTH AND GLOBAL RETAIL
2004
During the Spring/ Summer season, we launched our first complete collection for children. The challenge of starting to work in an area as specific as children's clothing ended up becoming a line of work that was increasingly important.
2005
We announced the opening of 24 new shops: among them, one on Barcelona's Passeig de Gracia and another on Madrid's Calle Mayor. Following the visit to Barcelona in 2003 by Spencer Tunick - known internationally for his large-scale nude photographs - the local government of Barcelona repealed the bye-law prohibiting public nudity.
This change in legislation made it possible for us to issue, on 17th February 2005, a singular invitation: Naked. Entra desnudo y sal vestido ('Come in naked and leave fully dressed') at Barcelona's Paseo de Gracia store. Naked was an invitation to take part in a game: the first one hundred people to turn up at the shop naked could leave dressed in Desigual clothing, completely free of charge.
That day, the thermometers recorded 8 degrees Celsius at 7pm. Several television companies waited, sceptical but with their cameras at the ready for the arrival of the first participants...and the result was a resounding success with more than 300 people queueing in front of the store, wearing nothing but their shoes and holding a number verifying their place in the queue. If anyone thought we were mad or that our idea wouldn't work...they were wrong.
2006
We expanded our offices in Barcelona. During the Spring/ Summer season, the first Desigual garments appeared with designs on them that had been drawn by children. We continued to grow at an impressive rate and we managed to improve all of our business figures. In October, a group of intrepid "desiguals" travelled across the globe to Singapore for the launch our first international store. On their return, they raved about the amazing place that Desigual had just discovered.
MORE PROFESSIONAL, GROWTH AND GLOBAL RETAIL
2007
We launched our first "jewel" coat: a garment that would make coats fashionable again for thousands of women, and which has become an icon of our work. The Spring/Summer Magic Stories collection included a special pocket in every garment for condoms (Magic Stories Container). This feature of the collection prompted us to deliver more than 30,000 condoms all over the world. In May, we celebrated the first Kiss, a large gathering of people kissing under the slogan: Kiss the world by Desigual. For this, we gathered more than 3,000 people to kiss each other in Barcelona's Passeig del Born. Also in May, Desigual landed in London with a fantastic store on Regent Street, and the Queen of England as our landlady. We began to consolidate the brand's international expansion.
2008
We launched our school, "Desigual escool: train to grow." In April, in Madrid, we celebrated our second Kiss: 7,000 people kissing on Plaza de la Luna. During the Spring/Summer season, we launched the first of our "Berta" dresses which went on to be an unprecedented sales success. The dresses were directly associated with our brand and became one of the most imitated garments on the market. Our "jewel" jackets and coats enjoyed an unexpected success when some female ministers and European politicians appeared at various public events dressed in a distinctly "desigual" way. We grew significantly more than anticipated: 80%.
MORE PROFESSIONAL, GROWTH AND GLOBAL RETAIL
2009
Our American year: we opened a store in New York's Soho area and a concession in Macy's; and our garments were sold in 500 multi-brand stores throughout the USA. We revived the original design of the denim jacket that characterised Desigual in its early days. International sales exceeded sales within Spain. This was the perfect result for our 25th anniversary, which we celebrated with a Christmas party at our central warehouse in Gavà, Barcelona.
2010 & 2011
We began a collaboration with the French designer Mr. Christian Lacroix, who worked with us to develop a line of clothing with his own personal stamp. With him on board, we took part in fashion shows in New York, talked about Black&White and combined creative worlds based on travel, colour and blends. At the same time, we continued our expansion and opened our 250th store in Hanover.
2012 & 2013
We moved to Barceloneta: June saw the official opening of our new headquarters in Barcelona. They are located next to the sea and designed so that Desigual can develop its work in line with its values. The surroundings encourage cooperation: there are no set places and all of the spaces were designed to allow employees to work with people in different areas, promoting a creative synergy. We also opened our store on New York's Fifth Avenue.
2014
We strengthened our strategy of growth and expansion with the inclusion of the investment company Eurazeo in our shareholders, as well as opening our 500th store in Rome.
MORE PROFESSIONAL, GROWTH AND GLOBAL RETAIL
2015
Our Viladecans Logistics Centre opened, with a storage capacity of 200,000 boxes and enough resources to mobilise over 30 million shipments a year. Our Logistics Centre is the perfect tool to develop an omni-channel strategy to take us closer to our clients across the globe. We launched our Exotic Jeans collection, continuing part of our line of jeans based on the theme of travel.
THE JOURNEY TOWARDS TRANSFORMATION WITH THE ESSENCE OF DESIGUAL
2016 & 2017
We embarked on a new stage of transformation, and started to build the Desigual of the future without abandoning our roots. We began working with the French artist Jean-Paul Goude, with whom we launched our SS17 collection in New York, with a different type of fashion show centred around an urban jungle aesthetic.
2018
We reissued our first jacket from our workshop in Barceloneta using the same manual, artisan working process that defined our patchwork method, with options for reserving and personalisation online. We worked on special collections with an online focus with artists who brought even more creativity, viewing Desigual from other perspectives, such as Miranda Makaroff and the designer Mr. Christian Lacroix.