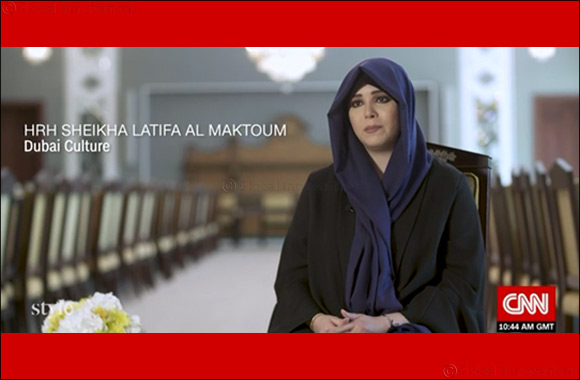 Dubai, UAE, December 20, 2018: CNN Style Dubai meets Sheikha Latifa Bint Mohammed Bin Rashid Al Maktoum for an exclusive look at her family's private art collection and hears about her father's desire to promote the talent of regional artists.
As Vice Chair of the Dubai Culture and Arts Authority, HRH Sheikha Latifa Al Maktoum hopes to take the industry to a global stage where it can be recognised internationally.
Key Quotes:
HRH Sheikha Latifa Al Maktoum on the artistic scene in Dubai:
"A thriving cultural scene is actually a sign of a very stable country, a thriving country, a stable government. I think creative expression is so important for a nation because it empowers them. It empowers the people to create beauty, spread it not only locally, but, internationally as well."
On the ruler of Dubai's private collection:
"Well, he's been collecting art for a while, for a long time and a lot of his collection, as you've seen, is from regional and local artists. And, to him, it's a way to support Emirati artists and the regional artists as well. To me, it's not the collection that I believe he holds most dear but it's the encouragement and the support to the art and general."
On her role as the Vice Chair of the Dubai Culture and Arts Authority:
"Everything I do within the Culture and Arts Authority is geared towards supporting the industry, is geared towards taking our creatives to a global stage, where they can be recognized internationally.
To make Dubai, a global centre for creativity, in every field."
Author of Art of the Middle East, Saeb Eigner on the promotion of regional artists:
"Whether it's from Morocco, or Egypt, or Lebanon, or Iraq, or Syria, or the region itself, or an Emirati artist. He has some of the best pieces produced by some of the greatest artists of the region.
the people who go and meet him; whether they're heads of state, or whether they're business people, or media people; see this and in itself says something about a very open, engaged leader who has set, as I said, the scene and it has gone through into his family."