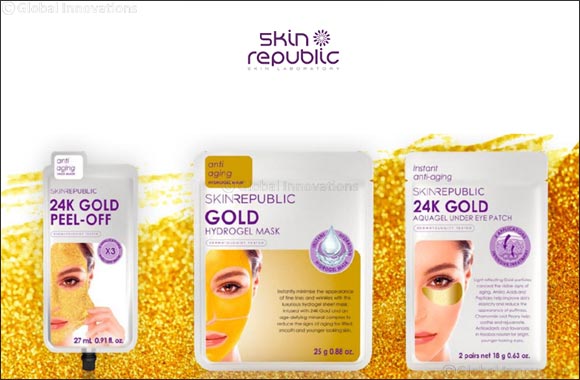 Get glowing this holiday season with Skin Republic's luxurious gold masks
December 04, 2018: Whether you're getting ready for a party or pampering yourself the day after, these age-defying face masks, infused with 24 carat gold, will get your skin looking smoother, firmer and more luminous than ever before. They're the perfect sidekicks for the festive season.
24K Gold Peel-Off Face Mask (AED 35 for 3 applications)
This Skin Republic mask is infused with 24 carat gold, known for its potent anti-aging capabilities. Rich in age-defying minerals, the formulation helps to reduce wrinkles and fine lines, while fruit acids gently exfoliate for a bright and luminous complexion.
Gold Hydrogel Mask (AED 33)
Instantly blur the signs of aging with Skin Republic's luxurious Gold Hydrogel Mask, for skin that appears lit from within. Age-defying plant extracts and minerals promote lifted, younger looking skin while the hydrogel sheet mask gently cools and soothes.
24K Aquagel Under Eye Patch (AED 41)
Infused with 24 carat gold, Skin Republic's 24K Gold Aquagel Under Eye Patches offer an ultra-luxurious eye treatment. Light reflecting gold particles conceal the signs of aging, reducing the appearance of fine lines and deep wrinkles. Eyes are instantly illuminated and skin hydrated, assisting in flawless makeup application and soy bean.
All Skin Republic Masks are dermatologist tested and are not tested on animals. Skin Republic masks have a three-year shelf life and are available from:
Department stores: Harvey Nichols, Bloomingdales, Areej, Lifestyle, Karji
Pharmacies: BinSina, Boots, Manara, Docib, Medicine Shoppe, United Pharmacy.
Supermarkets: Spinney's, Waitrose, Al Maya and Blush