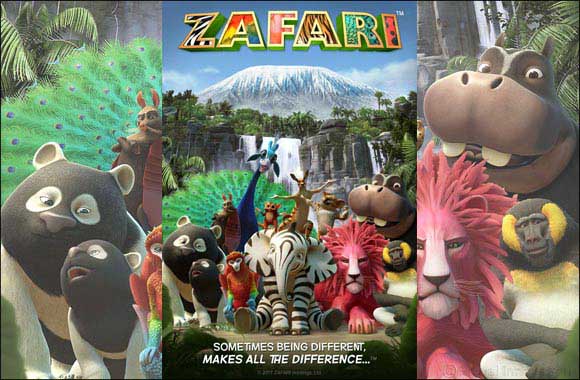 Opens children's film festival with the screening of unique youth animation series, Zafari
Sharjah, October 14, 2018 : The region's leading children and youth film festival, the Sharjah International Children's Film Festival 2018 (SICFF 2018) has got its sixth annual show on the road, conveying the important message of the world's need to accept and celebrate each other's differences through the part screening of the cg animated children's television series by Montreal-based Digital Dimension, "Zafari", created by David Dozoretz.
Animation veteran Dozoretz's past credits include Star Wars, Star Trek, Mission Impossible, Titan A.E., Yogi Bear, and other award-winning productions.
Premiered for the first time in the Middle East, The show's official tagline, "Sometimes being different, makes all the difference", is acted out by close to 20 characters from the animal kingdom we have never seen before. Emmy-nominated writer, Doug Langdale, has created this mad Zafarian world, which needs a fresh pair of eyes to understand. In this jungle, just a few inches away from Mount Kilimanjaro in Africa, animals are born all mixed up. For instance, the main character, Zoomba – a young elephant – has zebra stripes, his side-kick Quincy the monkey looks nothing like an ape, and Pokey the fabulous giraffe is essentially a peacock on four legs, and so on.
The three 11-minute episodes convey a deeply moral message through humorous dialogue and unparalleled audiovisual sophistication. The show is notable as the first animated television series being rendered entirely with Epic Games' Unreal Engine.
The ZAFARI series is composed of 52 episodes of 11 minutes aimed at boys and girls aged 4 to 7 years old. The show spreads on a continuous period of 20 months and its final frame count consists of almost 10,000 images. Various distributors around the world, including NBC Universal, have bought the series. It was aired first on France.tv last November.